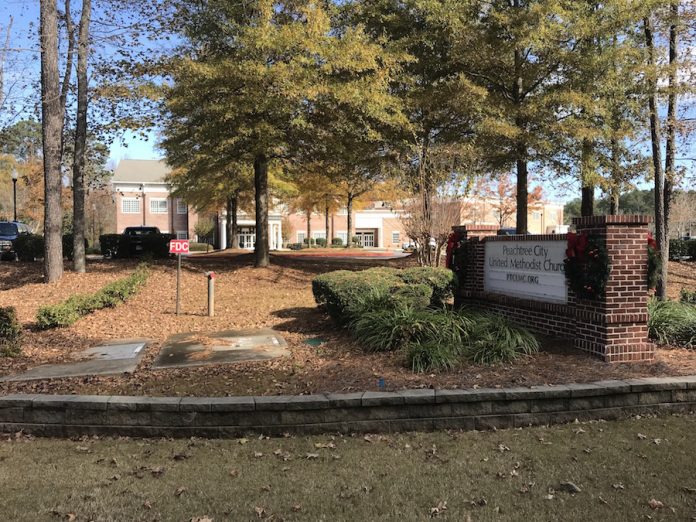 Approximately 37 acres owned by Peachtree City United Methodist Church (above) could be purchased by the Fayette County Board of Education as a potential school site. The acreage is situated east of the church building and parking areas. Photo/Ben Nelms.
The Fayette County Board of Education on Nov. 26 agreed to purchase 37 acres from Peachtree City United Methodist Church for a potential school site. The price tag is $1.85 million [CORRECTED DECIMAL ERROR].
The parcel adjacent to the east of the church campus and parking areas on Robinson Road totals approximately 37.1 acres and borders Stagecoach Road to the north. The price of the property is $50,000 per acre, with the estimated price totaling $1,855,000 [CORRECTED WRONG PRICE].
The school board also approved the purchase of 3.8 acres on Carriage Lane, which includes two houses. The purchase price is $525,000.
Asked about the purchases for future use, Superintendent Jody Barrow said the board had reviewed areas of student overcrowding and the need for other potential school sites.
"The board now has choices, whether for an elementary site or a middle school site, or a combination," said Barrow, noting that there is not a lot of acreage remaining in Peachtree City. "The board will weigh the possibilities methodically."
Barrow said at least 20 acres is required for an elementary school site.
Pertaining to the 3.8 acres on Carriage Lane, Barrow said the property could provide a second access to the property since the acreage is bordered by both Carriage Lane and Stagecoach Road. As for might become of the two homes on the property, Barrow said that determination would be made at a later date.
Barrow said the school system will meet with Peachtree City to discuss the city's long-range plans.
Bottom line, Barrow said there are no current plans, only possibilities for the future.
It is of note that, at least sporadically in the past year or two, the idea of doing something with Booth Middle School has been a topic of board conversation, whether renovating it or building a new school. To date, no decision has been made.
In terms of the schools feeding McIntosh High School, which is situated across Ga. Highway 54 from the newly purchased property, Booth Middle School is currently at 102.8 percent capacity and is expected to be at 107 percent capacity by 2023 and 111 percent capacity by 2028.
McIntosh and Booth are fed by Huddleston and Peachtree City elementary schools and partially by Crabapple and Kedron elementary schools. Of those schools, Huddleston and Peachtree City are nearly at capacity and will be at or slightly over capacity by 2028. Crabapple is at 85 percent capacity today and is expected to be at 91 percent by 2028. Kedron is at 102 percent capacity today and is expected to be at 112 percent by 2028.
McIntosh is the only one of the county's five public high schools that is currently over capacity, at 107 percent and is projected to be at 110.5 percent in 2028.