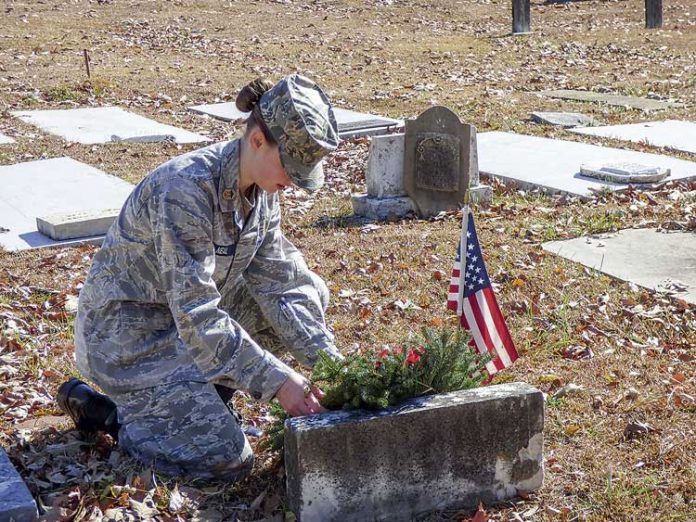 It's that time of year that Civil Air Patrol honors and remembers the men and women of the Armed Forces.  Civil Air Patrol members nationwide have shown their appreciation to our nation's veterans by adorning memorials and veteran's graves with evergreen wreaths.
As a key partner in Wreaths Across America, CAP ensures the sacrifices of our nation's military members are not forgotten.
Keynote speaker is Major Tyrone K. Jones, Sr., U.S. Army retired.  Major Jones is currently a very active civic volunteer leader in our local community.
Wreaths are placed by Civil Air Patrol cadets and officers along with local veteran organizations on National Wreaths Across America Day on Dec. 15 at the Fayetteville City Cemetery.
The public in invited and encouraged to help lay wreaths and attend ceremony.
The laying of wreaths begins at 11 a.m. Ceremony begins at noon. Light refreshments will be served.
To order wreaths for Fayetteville City cemetery, please use this link: www.wreathsacrossamerica.org/GA0058P.
Wreaths are $15 each, the last day to order is Dec. 3
Peachtree City Falcon Field Composite Squadron GA-116 meets every Thursday night at 6:30 P.M. ATP Flight School, 1120 Echo Court, Peachtree City, Georgia.http://www.ga116.org/ find us on Facebook and Instagram.
Visit www.GoCivilAirPatrol.com or www.CAP.news  for more information.