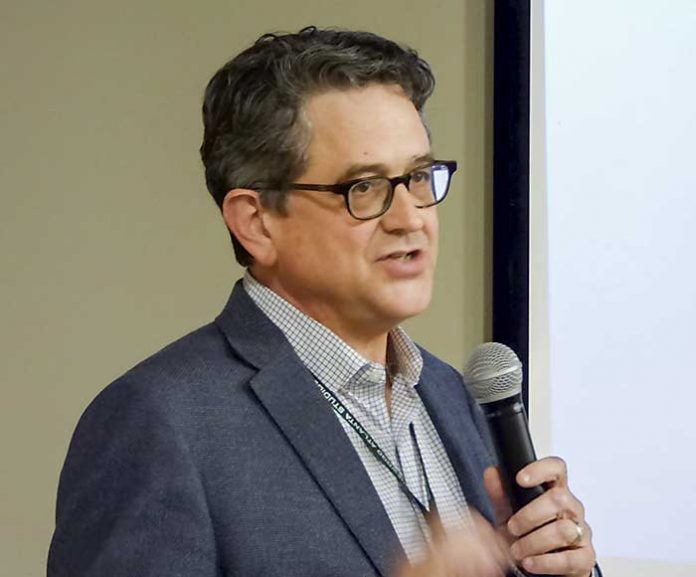 Workforce forum says students can find a future in creating films; state's only high school level creative writing course to be offered here —

The annual Workforce and Education Forum sponsored by the Fayette County Chamber of Commerce was held Nov. 1 at the chamber office in Fayetteville. Speakers at the event were Pinewood Atlanta Studios President Frank Patterson and Fayette County School System Superintendent Jody Barrow.
Patterson began his comments noting the rapid growth of the film industry in Georgia, which in 2017 included $9.5 billion in economic impact statewide.
Patterson soon turned his comments to the ongoing changes in the industry and the emerging "platforms" such as Amazon, Netflix and Apple.
"It used to be the six main studios," Patterson said. "Now it's 'direct to consumers.'"
Citing an example, Patterson said Netflix alone in the past year has created 87 feature films, more than all the studios combined. The ongoing emergence of new platforms essentially individualizes the availability of viewable content, he said.
Georgia has evolved into a world-class production center, said Patterson, "And now we need to create, as well as manufacture film."
And that is where today's students can make a mark on the industry. Patterson said Georgia, and Fayette County, needs a creative class to drive the emerging platform environment that will also include virtual reality, AI and augmented reality.
"But at the center of it all is a 'story' and 'storytelling,'" Patterson said, emphasizing that, like a seed that must be germinated and nourished under the right conditions, it is the story of anyone or anything that must be brought to fruition through the nourishment that resides in the creative process.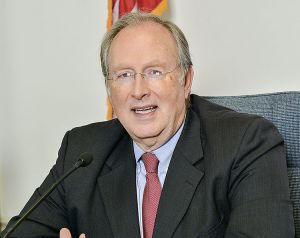 Barrow began his comments saying of the school system, "We intend to positively impact our world."
Referencing the school system's 2018-2019 offering of innovative courses designed to mesh with the fim industry, Barrow said those courses include Dramatic Writing for Film and Theater, Set and Film Production, Community for Creativity, Project Search in partnership with Piedmont Fayette Hospital for those ages 18-22 with intellectual or development disabilities, the Rosetta Stone Foundations pilot program in Spanish for elementary students and the International Baccalaureate Diploma program at Sandy Creek High School for which accreditation is accepted worldwide.
Barrow added that Fayette County is the only school system in Georgia offering the dramatic writing course.
"If we want the creative industry to thrive, we've got to have the creative writers here," Barrow said.
Barrow in his comments said the county's demographics are shifting somewhat, noting that 40 languages are now being spoken in the community.
Barrow also announced that school enrollment is now positioned at 20,307, representing an increase of more than 100 students since the beginning of the school year.
The forum also featured a panel of Fayette students and teachers involved in the creative process.