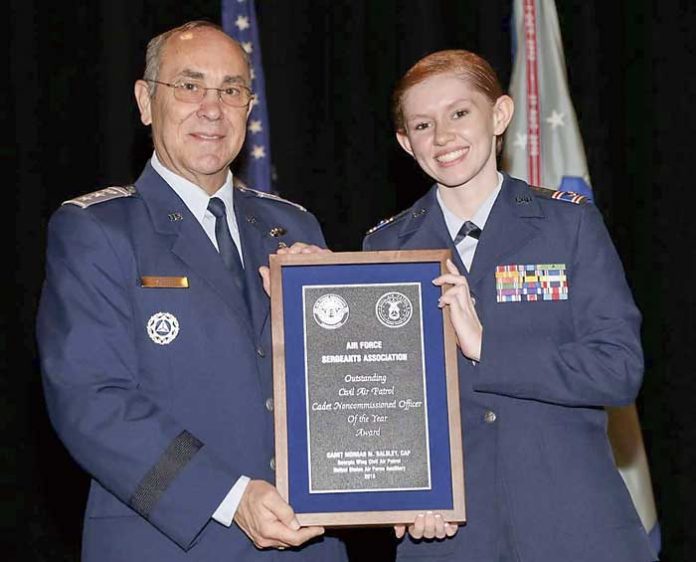 Search and rescue, hurricane disaster relief and youth flight training:  these are just a few of the efforts supported by Georgia Wing, Civil Air Patrol (CAP) in 3,040 hours of flight time for Georgia communities during the last year. For these and other efforts, Georgia Wing was honored this week with multiple awards reserved for some of the best and brightest in the country at Civil Air Patrol's National Conference in Anaheim, Calif.  These awards recognize members, wings (the state organizations) and units for service to the nation, their communities and to Civil Air Patrol.
 Col Andrea Van Buren, commander of the Georgia Wing, stated, "I was honored to represent Georgia at our National Conference and accept these awards on behalf of the nearly 2000 volunteer members in the state. In 2017, Georgia members contributed an astounding $5.7 million in man-hours supporting emergency services, aerospace education, and cadet programs. I am particularly proud of our cadet program which is one of the strongest in the country, serving members from 12 to 21 years old."
 Each year at the National Conference, a wing is selected from among the regions for national mission awards.  Georgia won two national mission awards from five categories along with individual awards in key categories as follows: 
• 2018 CAP Aerospace Education Mission Award
• 2018 CAP Cadet Program Mission Award
• 2018 Aerospace Education Teacher of the Year:  Capt Brian D. Johnson, Barrow-Jackson Composite Squadron
• Air Force Sergeants Association Cadet NCO of the Year: Cadet Chief Master Sgt. Morgan Balsley, Peachtree City Falcon Field.
• Gil Robb Wilson Award/Level 5 Senior Member Professional Development:  Lt Col Jeff Rogers, Effingham Cadet Squadron
Last year, Georgia CAP flew 128 hours of sundown patrol along the Georgia Coast; 513 hours in cadet orientation rides and flight training; 480 hours of search and rescue and disaster relief training, and much more.  Deployed to support FEMA's post-hurricane efforts, Georgia CAP volunteers took over 30,000 aerial photographs to help document storm damage and assistance needs.  The cadet program stands as a national benchmark of excellence in youth programs.  The emphasis on leadership, character and ethics supports accomplishment well beyond CAP activities. 
 Civil Air Patrol, the longtime all-volunteer U.S. Air Force auxiliary, is the newest member of the Air Force's Total Force. In this role, CAP operates a fleet of 560 aircraft, performs 90 percent of continental U.S. inland search and rescue missions as tasked by the Air Force Rescue Coordination Center and is credited by the AFRCC with saving an average of 80 lives annually. This year, CAP celebrates 70 years of affiliation with the US Air Force as the official Air Force Auxiliary.   CAP air and ground teams perform over 90% of inland search and rescue missions tasked by the Air Force Rescue Coordination Center, with 58,000 volunteers and 560 aircraft.  CAP's 57,000 members also perVisit www.GoCivilAirPatrol.com for more information.