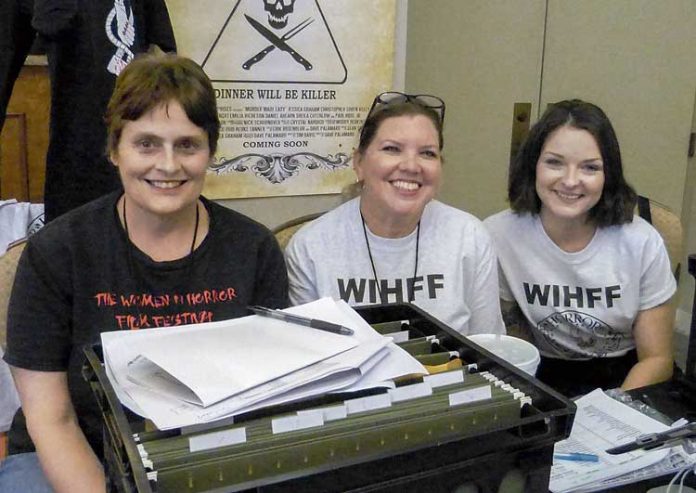 The Women in Horror Film Festival is proud to announce the 2018 film & screenplay finalists.  The full list is on the official WIHFF website at www.WIHFF.com/2018films and www.WIHFF.com/2018-screenplay-finalists.
WIHFF is proud to present the world premiere of the feature film anthology "Bugs:  A Trilogy," directed by Simone Kisiel.  Other feature films include Brooklyn Ewing's "She Was So Pretty,"  "Be Good For Goodness Sake," "Echoes Of Fear" (directed by Brian and Laurence Avenet-Bradley), Laura Sanchez Acosta's "Relict:  A Mesopotamic Tale," Estelle Linden's "MIA" and David & Rebekah McKendry's anthology, "All The Creatures Were Stirring."
Over 70 short films will screen throughout the weekend in addition to a live read of the short screenplay finalists and a panel on diversity & visibility featuring the incomparable Trina Parks and best selling horror author Mylo Carbia.The full schedule is available at https://www.wihff.com/schedule/
The festival is returning to the newly remodeled CrownPlaza Hotel & Conference Center in Peachtree City, GA October 4-7, 2018.  Tickets are available at www.WIHFF.com.
WIHFF will be hosting a VIP party Thursday October 4, 2018 for all selected filmmakers and screenwriters.  Press will be there to put the spotlight on the finalists and celebrity guests will be there to meet and greet the attendees.  A limited amount of exclusive VIP passes will be sold for this event so be sure to keep an eye out and join us on the dead carpet!
There will be a special Saturday night performance for all attendees and guests by musical duo 2 Broke Kings featuring Ross Childress formerly of Collective Soul.
For more information on the fest and how to get involved, please visit us online at www.WIHFF.com or on Facebook (www.facebook.com/WIHFF),  Twitter @WIHFF and Instagram @womeninhorrorfilmfestival.