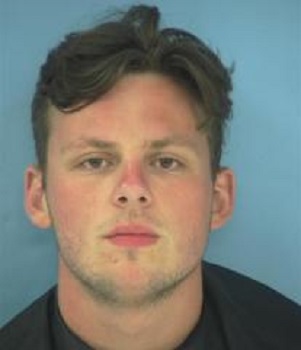 Coltyn J. White. Photo/Fayette County Sheriff's Office
A Stockbridge man faces multiple charges in Aug. 11 incidents where vehicles were entered or stolen and damaged in the area of Ga. Highway 85 South. The man was tracked by K-9 units and taken into custody.
Coltyn J. White, 20, was charged with two counts of burglary, three counts of entering auto, three theft by taking and two counts of criminal trespass, according to Fayette County Jail records.
Sheriff Barry Babb said deputies at approximately 5 a.m. on Aug. 11 were called to a residence on Darren Drive off Hwy. 85 South concerning the theft of a truck in progress. Using another vehicle, residents attempted to block the exit of the vehicle stolen by White, said Babb, adding that White drove the stolen truck off the roadway to avoid being stopped.
Providing directions to deputies, two of the residents followed the stolen truck to a nearby Carrolls Way residence where a white male fled the vehicle. Deputies at the scene, including a K-9 unit, tracked White's movement to the area of Whitewater Creek where the trail became less certain, said Babb, adding that two wire cutters and other items were found in and around the area of the stolen vehicle.
It was discovered that another vehicle parked in the garage at the Darren Drive residence had been entered and a wallet stolen and a tire slashed, said Babb.
It was also discovered that a dirt bike belonging to the residence had been moved and had been prepared to be removed from the property prior to the truck being stolen.
Later in the morning, at approximately 8:30 a.m., a resident on Woodcreek Lane off Redwine Road reported a suspicious person on the property. The resident said a man was seen outside the fenced yard, crouched down by a tree, Babb said.
Babb said deputies and Peachtree City police, both with K-9 units, responded and split up to work the area. The Peachtree City officer spotted White, noting that he fit the description provided earlier in the day.
Officers and deputies converged on the area and took White into custody, Babb said.