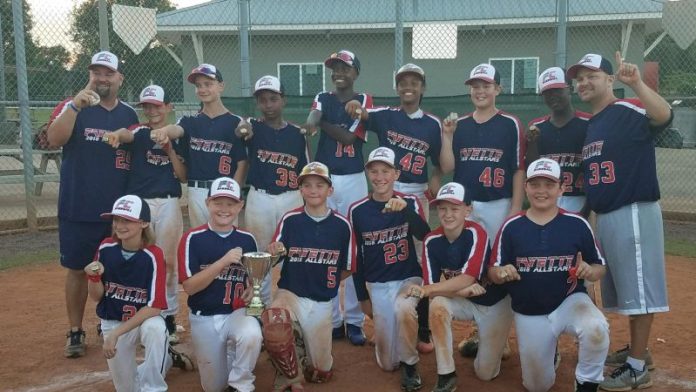 The 12U All-Star team from the Fayette County Baseball Association won the Georgis USSSA State Championship last month in Social Circle, beating the Pike County All-stars for the title, then followed that up with a win in the World Series in Gulfport, Miss. They are now 2018 USSSA All-Star World Series champions.
Luke Lezaj pitched five shutout innings against previously top-ranked Monticello (Ark.) to advance to the championship game.  Persia Sanders, the only female in the entire tournament, pitched a complete game against Newton County (Ga.) to take the title 13-2.  She was backed offensively by Dylan Williams' 6 RBI, including a 3-run homer in the first inning.
The team, which won all six games they played in the tournament, is the first 12U team from the Fayette County Baseball Association the win an All-Star state championship and the first team ever from Fayette County to win the National All-Star World Series.
They finished the postseason with a record of 16-1.
Top row, from left: Coach Jamey Trask, Brandon Shealy, Hayden Derbyshire, Isaiah Reynolds, Christopher Jones, Persia Sanders, Ethan Riesberg, Dylan Williams, Coach Tom Lezaj.
Bottom row: Hayden Mullins, Levi Trask, Drew Gable, Christian Mattingly, Luke Lezaj, Brennen Drew.