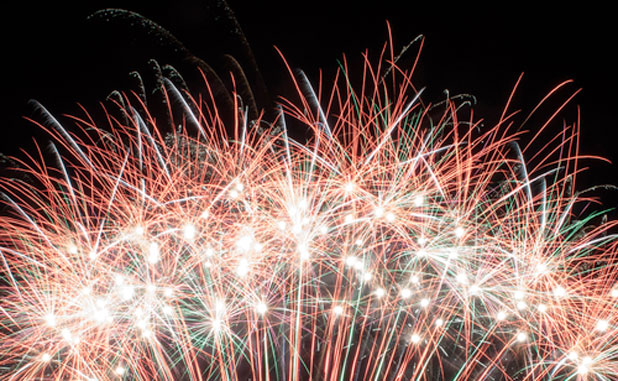 Peachtree City Public Information Officer Betsy Tyler has schedule information and advice for the 4th:
· No blankets or tarps will be allowed at City Hall Plaza before the 4th Fest begins at 5 p.m.
· No blankets, tarps, or golf cart parking on any path bridge for fireworks viewing.
· Please do not block paths or streets in advance of or during fireworks.
Blankets placed early will be removed and thrown away.
· Reminder: Golf carts are not allowed on Ga. Highway 54, Ga. Highway 74, Peachtree Parkway, or Crosstown Road, except at authorized crossings. There are NO grade crossings authorized for Hwy. 74, and the only legal grade crossing on Hwy. 54 is at the traffic signal by Steinmart/Publix. All other crossings for the state highways are bridges or tunnels.
• Georgia Hands Free Driving law is now in effect and applies to all golf cart drivers as well.
All city administrative offices, the Peachtree City Library, the Rockaway Road Mulching Center, the Peachtree City Visitors Center, Glenloch Pool, and Kedron Fieldhouse will be CLOSED on Wednesday, July 4.
On Wednesday, July 4, it's the Independence Day Parade at 9 a.m., on Peachtree Parkway South. Grand Marshal is WWII Veteran Gene "The Champ" Sebastian. The parade begins just north of Braelinn Golf Club and proceeds, crosses Crosstown, turns west on McIntosh Trail, and ends at the Recreation Complex across from Huddleston Elementary. The parade will be held rain or shine (only dangerous weather would be a cause for cancellation).
· Traffic advisory, Wednesday, July 4, 7 a.m. to noon. Expect delays on Peachtree Parkway South, Robinson Road, McIntosh Trail, and Crosstown Road beginning at 7 a.m. Once started, the parade will utilize the southbound lanes of Robinson Road to the northbound lanes of Peachtree Parkway, to McIntosh Trail. Access to neighborhoods along the parade route will be severely restricted during the parade and cleanup. Anyone needing emergency access should contact the nearest police officer or call 770-461-HELP.
Braelinn Village Center July 4th Celebration – 10:30 a.m. – 12:30 p.m., at Braelinn Shopping Center. After the parade, stop by for face painting, festive hair, kids' crafts, snow cones, and a DJ with music, games, and prizes.
Fourth Fest at City Hall Plaza – 5 p.m. to 9 p.m. Family-friendly event with acoustic jam band, Cougar Love, taking the stage for some live music from 5 to 6:30 p.m., and Phil & the Blanks 7 to 8:45 p.m. Other activities for celebrants of all ages include face painting, inflatables, a photo booth, rock wall, and coloring wall. Bring your appetite for Kettleworks (kettle corn and drinks), Just Smoke "N" Around (barbecue), R&T Concessions (traditional fair food), TCBY (frozen yogurt), and Sweet Mama's Lemonade (refreshments).
Have a Blast at Battery Way Park – July 4, 5:30 p.m. – The Frigid Frog will be on hand to help the crowd at the Battery Way Docks chill through the fireworks.
Food Truck Frenzy at The Avenue – 6 to 9 p.m. Brainfood Hawt Cheese Market, The Mad Greek, Dixie Dogz, Mitchells Shack Attack, Gekko Sushi Hibachi Truck, and King of Pops join Atlanta Bread, Marble Slab, and Ted's at this popular fireworks viewing spot.
Fireworks over Lake Peachtree – Dusk (between 9 and 9:30 p.m.). Weather conditions alter launch time. Check the Facebook page for Peachtree City Police and Fire Departments (https://www.facebook.com/PeachtreeCityPoliceFire/) for updates (you do not have to have a Facebook account).
· NO PARKING on Hwy. 54 – No parking will be permitted on Hwy. 54 for viewing the fireworks.
· Traffic advisory — Wednesday evening, July 4: Due to the large number of people trying to exit Peachtree City on Hwy. 54 and Hwy. 74, many traffic lights will be placed on flash mode. If a police officer is present to direct traffic, drivers should always obey that officer. If a traffic light is on flash, and there is no officer present, drivers are reminded that a FLASHING YELLOW light means to proceed with caution. A FLASHING RED light means to stop and yield right-of-way to other vehicles in the intersection.
· No personal fireworks or sparklers on city property (roads or parks). Sec. 38-52 of Peachtree City's code prohibits use, igniting, storage or manufacturing, sale, or exhibition of any fireworks, including pyrotechnic devices on any city owned parks, recreation areas, and greenbelts (excludes residential streets). State law also prohibits the use of personal fireworks on city streets.