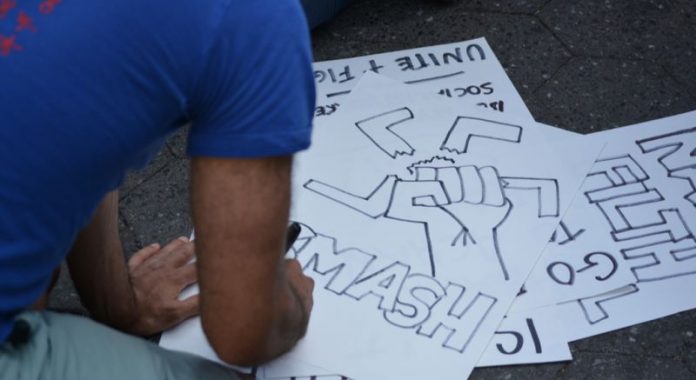 Newnan officials have issued an update, including road closures, that will be in effect for an April 21 rally by members of the National Socialist Movement (NSM) who have obtained a permit for a political rally at Greenville Street Park. Also expected to attend are members of the Valdosta Antifa organization, as will a contingent of law enforcement agencies.
Newnan Assistant City Manager Hasco Craver in an April 10 letter said the NSM rally to be held from 3-5 p.m. will likely include 50-100 people.
NSM is a Detroit-based neo-Nazi organization.
"The city of Newnan, in consultation with numerous local, state and federal agencies, has developed a public safety plan that is designed to ensure the safety of our citizenry as well as the preservation of public and private property," Craver said. "Newnan is aware of recent activities in our country that include the actions of similar protests and counter protests. Newnan has a responsibility to protect free speech rights, the individuals and groups that choose to exercise those rights and the broader community in which those rights may be exercised. Newnan is taking very seriously multiple concerns regarding the safety of all persons and property. In order to meet that obligation, Newnan has been preparing a robust public safety plan. Newnan is committed to ensuring public safety and will utilize the resources needed to execute the public safety plan."
Craver said numerous traffic detours and delays will be in place on April 21.
"In addition, a number of local, state and federal agencies will join Newnan's public safety personnel on April 21 to provide for the successful management of the aforementioned event," said Craver. "At this time, Newnan feels it is appropriate to close portions of Greenville Street, LaGrange Street and Salbide Avenue nearby, adjacent to and surrounding Greenville Street Park. Additional street closures may occur and may be announced at a later date. Newnan recognizes the inconvenience the temporary street closures may create for residents and business alike. However, Newnan feels it appropriate to promote public safety."
Valdosta Antifa on its Facebook page said it will be sending members to Newnan.
The NSM protest coincides with the NSM Georgia National Meeting to be held April 21 and 22 in Temple, near Villa Rica.