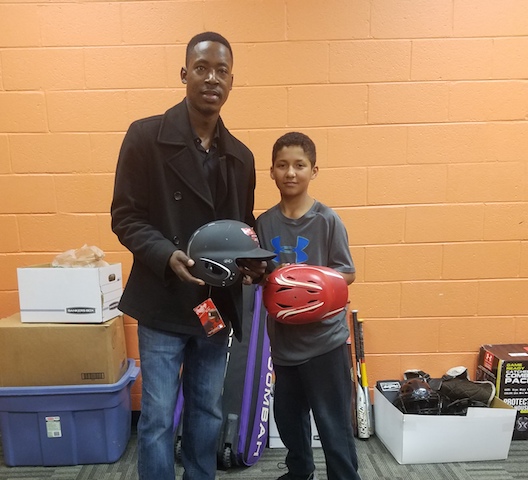 Anthony Marriaga, a sixth-grade student at J.C. Booth Middle School, felt a real call to action when one of his teachers, Mrs. Barry, directed his class to complete a community service project.
Anthony, a huge fan of baseball and a Peachtree City Little League player since he was four years of age, recalled playing against Little Leaguers from neighboring communities who did not have the proper equipment to safely play the game. He remembered how players on his own team would lend out helmets and bats to the opposing teams to avoid any calls from the umps and keep the games going. Those experiences inspired Anthony to decide to reach out to local friends and neighbors and conduct a drive for used, but still useable, baseball gear.
With a blast on the "Life in the PTC Bubble" Facebook page, it only took a couple of days for Anthony to accumulate several boxes of items, including cleats, batting gloves, pants, helmets, gloves, bat bags, and catchers' gear – some of which was brand new with tags still on. Overwhelmed by the generosity of the community, he quickly went to work cleaning and sorting through all of the donations.
That led to a new challenge. How would he get all of this baseball equipment to kids who could really use it?
With the help of his parents, Anthony was able to get a message to Linda North, district administrator for Georgia District 4 Little League, about his project and ask for help finding a local Little League organization that might have a need.  It only took minutes for North to send her enthusiastic support of the project and provide a contact and meeting place where Anthony could present what he had collected.
Anthony packed boxes and bags of baseball gear into his dad's truck Feb. 28 and met North and Corey Williams, president of South Fulton Little League, at the Kedron Fieldhouse where he presented Williams with all of the donated items for players in the South Fulton Little League.
With the spring season upon him, Anthony is now focused on playing in the Intermediate and Majors divisions of the Peachtree City Little League but remains inspired to coordinate future efforts of volunteerism and donation drives for local kids who love the game of baseball as much as he does.