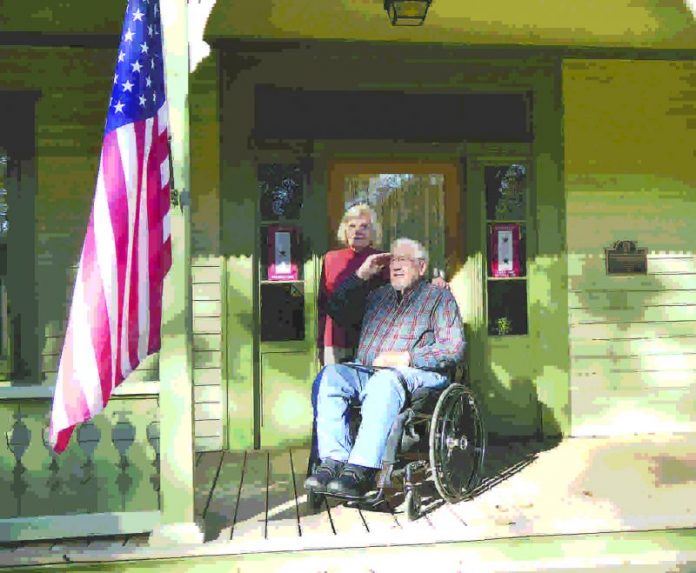 Former longtime Fayetteville City Councilman and U.S. Navy Capt. Glenn Brewer died Feb. 23.
Brewer, 89, served on the Fayetteville City Council beginning in July 1991, when he was appointed to fill an unexpired term on the council. Brewer was subsequently elected to another term, and continued to serve on the City Council until Dec. 31, 2007 when he decided not to run for re-election.
---
Above, Glenn and Jeanne Brewer in 2014 commemorated Veterans Day at their Fayetteville home. Photo/The Citizen.
---
Prior to his time on the City Council, Brewer served as Fayetteville City Manager during the late 1980s.
A former Navy captain, Glenn "Tex" Brewer received the Navy Commendation Medal for being the first person to dive beneath the North Pole, was elected to the National Explorer's Club and, later in his military career, served in the offices of the Joint Chiefs of Staff.
A hang-glider and hydro-plane enthusiast, Brewer set world records in both straightaway and competition speed marks.
In 1964 he became Commanding Officer of the attack submarine Volador in the Pacific.
Brewer's honors and decorations include the Legion of Merit, Joint Service Commendation Medal, Presidential Unit Commendation and Korean Service Medal. He was awarded a Navy Commendation Medal for obtaining the first pictures of the underside of the North Pole while scuba diving beneath the ice from the nuclear submarine Seadragon on the first East-West Polar Passage in 1960, for which he was made a member of The Explorers Club in New York City.
In 1961, Brewer received a Navy Citation for meritorious action for saving the life of a U.S.S. Tench crew member injured while skin-diving in Monaco. Glenn also received a special Letter of Commendation for establishing a record operational deep scuba dive.
Having attended Aerial Photography School in Pensacola, several of Brewer's photographs taken during his Naval career were published in Time and Life magazines.
A memorial service will be held on March 4 at 3 p.m. at Mowell and Son Funeral Home in Fayetteville, located at 180 North Jeff Davis Drive.