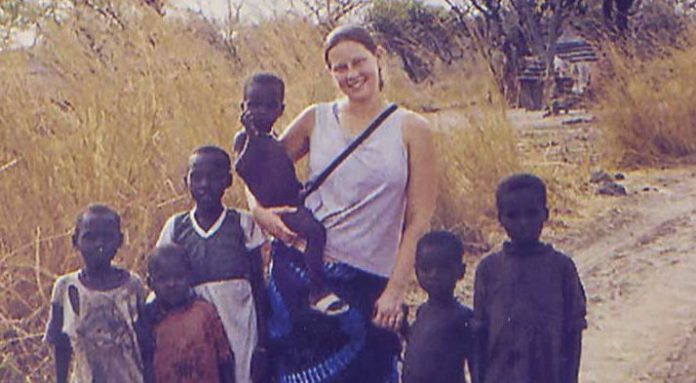 Former Peachtree City resident and BlueSky Global Ministries founder Kim Pace with a few of the many children she worked with in Africa since 2001. Photo/The Pace Family.
Update: The memorial service for Kim Pace to be held in Kenya on Jan. 27 at 8 a.m. Eastern time will be live-streamed at http://youtu.be/cHFoNczmd71
Original story: Former Peachtree City resident and BlueSky Global Ministries founder Kim Pace lost her life in a paragliding accident in Kenya on Jan. 23. Her legacy is wrapped up in the reality that the life she lived, was lived in the grace of God's love.
Kim during the morning of Jan. 23 was riding in tandem with expert paraglider pilot Tomas Lednik in Kenya. It was during the flight in the Kerio Valley that the two struck the ridge and perished, according to xcmag.com. The Kerio Valley sits beneath the Elgeyo Escarpment and forms part of the western wall of Africa's Great Rift Valley.
Though the 39-year-old is no longer here, Kim's family seated around their dining room table on Jan. 24 wanted the memory of one who passed away at such a young age to be remembered in terms, not of that passing, but as a celebration of a life that touched so many people for Jesus.
The story of the life of Kim Pace was essentially not her own. It is the story of the people she touched.
Kim's mother, Mary, offered a perspective on the life-ending accident that others might miss.
"She was willing to take this leap. She took that leap off the cliff and He caught her," Mary said.
"Kim took her last breath in the land she loved," Kim's father, Jim, added. "She was always the one to take the initiative on things, the one to go before us. Kim was fearless."
"The way she died exonerated the adventure for life that she had," said brother Jimmy Pace.
It has often been said that there is a difference between existing and living. Sitting around the dining room table, Kim's family spoke about a life that was lived, and the reason behind that living.
"Her story is the story of God's love," Jim said. "Through His death, the power of love was released upon the world. Jesus touched the 12, and they continued on and touched others. Kim did the things He said. Hers was a season in life. So this is really a celebration of her life, and the story of all the people she touched."
Kim grew up in Peachtree City, attending Peachtree City Elementary School, Booth Middle School and graduating from McIntosh High School in 1996. She then attended Berry College in Rome, graduating in 2000. It was while at Berry that Kim became involved with the WinShape Foundation, a nonprofit founded by Truett and Jeannette Cathy.
During her time at Berry, Kim worked at WinShape camps and the WinShape Wilderness, where team-building ropes courses became a natural fit for her.
"I started wondering what to do once I graduated," Kim told Fayette Woman magazine in 2007. Kim was featured on the cover of the December 2007 edition of the magazine. The lengthy look at the mission that was Kim's life showed a young woman who always knew that her life was in God's hands, in God's will. "There were four things I was passionate about at the time: working at camp, team-building, going into the ministry or moving to Spain."
Jim said that it was at the end of her time at Berry College, on an occasion in the school's Frost Chapel, that Kim was convicted to go to Africa after learning of the need there to have ropes courses, team-building and the spreading of God's word. That was 17 years ago. Over those years, Kim's mission and her ministry continued to grow.
Kim arrived in Kenya in January 2001, ready to embark on her mission for Christ. It was soon after her arrival that Kim travelled to the southern portion of Sudan. The country at the time was still enflamed in the Second Sudanese Civil War, which would not end until 2005.
That trip to Sudan, in so many ways, mirrored the life and the mission of Kim Pace. It was there that Kim met and ministered to members of the Jur Modo tribe, who number approximately 50,000 people today.
"She flew into the war zone to teach about Jesus," Jim said, explaining that Kim accompanied another woman who needed assistance in reaching a tribe that had never heard about Jesus. "She taught the tribal women about Jesus. And they believed."
Jim noted that Kim also provided advice on alternative methods for growing crops that would enhance the group's food supply.
But going into the war zone was not without risks.
"She didn't know if she'd make it out. She told us that she loved us," Jim said, with the look of a parent's concern in his eyes and in his voice. "This is a tough girl."
Once back in Kenya, Kim told Mary and Jim about a young Jur Modo boy she met in Sudan. She told her parents about the boy, who would see her and run and jump into her arms. On one occasion when he saw her, he was covered in mud.
"I was immediately covered in mud. But I didn't see the mud. I just saw the joy in his eyes. That's the way Jesus sees us. He doesn't see the mud. He sees the joy," Kim told her parents.
"I couldn't get that out of my mind," Jim said, his voice cracking. "A little boy in south Sudan, touched by the love of Jesus."
Kim founded Brackenhurst Ministries in Kenya in 2004 and BlueSky Global Ministries in 2007. The number of lives touched by the words of Jesus through these ministries would be difficult to calculate, though they easily run into many thousands.
Headquartered in Nairobi, Blue Sky exists to grow the global church by inviting the multinational community into a relationship and connecting people to Jesus Christ. The organization's ministries include Camp Blue Sky designed to make disciples through relational ministry with students, Climb Blue Sky which operates the only climbing gym in east Africa, and Blue Sky Team Building that works with local groups and organizations by teaching concepts such as service, honesty and trust.
It was in 2007 that Kim told Fayette Woman, "I've experienced at a deeper level what it means to trust the Lord. I can see that there's more to life now; my entire worldview has changed."
Reflecting on her daughter's impact, Mary said Kim was always a person who could gather people around her.
"She was persuasive in such a good way," said Mary.
Mary spoke of a time when she accompanied Kim in the Kenyan bush to witness for Christ. Mary wondered about the trek, but soon came to a different realization, born in what Kim saw in her and the things Kim knew about people.
"She saw in me what I didn't see in myself," Mary explained. "She challenged you to be you when we come into agreement with Him. It's really about letting go and trusting God. We all try to stay in control. Kim surrendered that control."
Though she has passed, Kim's work will continue. Mary and Jim Pace said that, "A foundation will be set up in Kim's memory, to continue the adventure of experiencing God's love. It will continue the work Jesus started through people like Kim."
The family traveled to Kenya where a memorial service for Kim will be held on Saturday.
A memorial service will also be held at 2 p.m. on Feb. 3 at Southside Church, located at 777 Robinson Road in Peachtree City. Kim years ago wrote the founding documents for Southside Church.
In lieu of flowers, the family asks that donations be made to the Pace Family Foundation, care of Atlanta Community Foundation at 191 Peachtree Street NE, Suite 1000, Atlanta, GA 30303, to support BlueSky Global Ministries and to continue the good work that was started.
A perspective on life not often recognized, yet so obviously true, comes in the form of a well-known statement: A life is not measured by the number of breaths we take, but by those moments that take our breath away. For Kim Pace, and in the hearts and minds of her family, it was Africa and her love for God that so clearly took her breath away.
The legacy we live, is the legacy we leave. For those whose lives she touched, the legacy of Kim Pace is full of life. It's as if she's still here.