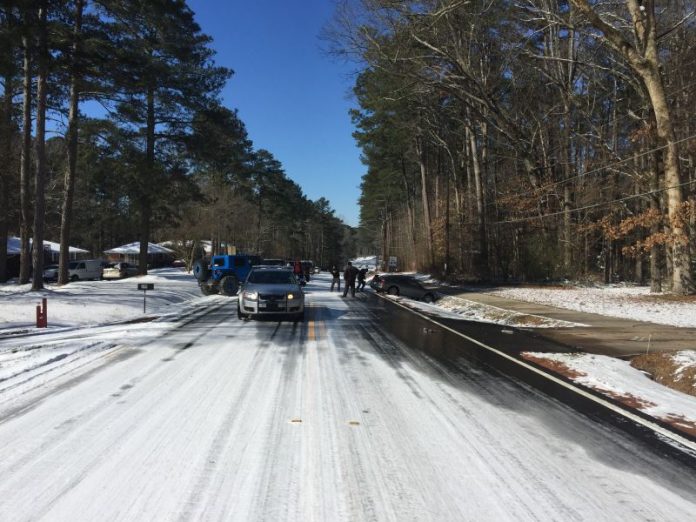 Fayette County Sheriff Babb snapped this photo at 1:30 p.m. on Wednesday along Ga. Highway 92 North in Fayetteville. "If you think it's safe to drive, everything that's white where this photo was taken and looks like slush, is actually ice." Photo/Sheriff Barry Babb.
Coweta County and the City of Newnan have imposed a curfew extending from 5 p.m. on Wednesday until 10 a.m. on Thursday due to inclement weather conditions.
The curfew followed a state of emergency declared by Gov. Nathan Deal for Coweta and Fayette and 81 other counties associated with the winter storm and will result in a fine of $1,000 and up to 60 days in jail for violators.
Those exempted from the curfew include individuals engaged in the provision of designated, essential services, such as fire, law enforcement, emergency medical services and hospital services, military services, utility emergency repairs. For the purposes of this curfew, example individuals also include regular employees of local industries traveling to and from their jobs with appropriate identification, news media employees, building and repair contractors, properly registered, performing activities related to construction, repair, renovation or improvement of buildings and other structures damaged during the disaster or emergency.
For his part, Coweta County Sheriff Mike Yeager offered a different take on the curfew.
"The Sheriff's Office wants to get out in front of the mandatory curfew being enacted tonight starting at 5 pm and ending at 10 am Thursday morning. This curfew, though enforceable, is a cautionary advisement and we're strongly urging everyone to stay home and off the streets unless absolutely necessary.
Public Safety Personnel are operating at maximum capacity already and the current weather conditions can create additional risks to our community members that would dramatically overstretch our Public Safety Servants. So please stay home and help us serve the community during these dangerous winter conditions by spending time with your families and neighbors. Neither the Sheriff's Office or Newnan Police Department has enacted this curfew. Please use sound judgment and Sheriff Yeager wants to remind you that warm weather is right around the corner," the sheriff's Facebook page said.
Fayette County Administrator Steve Rapson on Wednesday said Fayette is not considering imposing a curfew, adding that people need to exercise extreme caution if driving on roadways. Rapson said law enforcement units are on patrol and advised that motorists stay off the roadways.
In other weather-related news, Senoia police at 1:30 p.m. said Ga. Highway 85 is completely shut down between Ga. Highway 16 and Seavy Street for a tractor-trailer rig that is off in the ditch. Removal will take several hours due to the manner in which it is stuck and the roadway conditions. Police advised motorists not to use Hwy. 85.
In Fayette County, Sheriff Barry Babb cautioned motorists, noting that what appears to be slush on many roadways is actually ice.
Coweta County school officials announced that classes will not be held on Thursday.