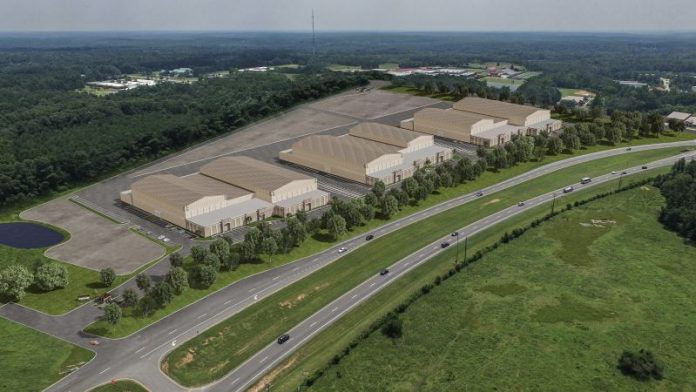 Development plans for the Founders Studios film and television complex in Tyrone were approved by the Tyrone Town Council in July. With initial construction set to begin in December, Founders announced on Oct. 11 that the available space for the multi-million dollar project has increased from 90 acres to more than 200 acres.
The July proposal by Peachtree City-based Dockery Group owner Nathan Dockery asked that the 90-acre property on the east side of Ga. Highway 74 North between Jenkins Road and Sandy Creek Road be rezoned to establish Founders Studios.
An Oct. 11 update by Founders noted that the size of the property has increased from the original 90 acres to more than 200 acres.
Founders Studios will feature a "hub" design approach to filming. All located under one roof, each of the five planned hubs will feature two soundstages totaling 50,000 sq. ft., construction and flex space totaling 30,000 sq. ft. and 20,000 sq. ft. of office space.
Construction on Phase 1 is expected to begin in December, and open for business in late 2018.
---
Above, architectural rendering of Founders Studios site in Tyrone. Graphic/Founders Studios.
---
"I am excited to begin construction on this development," said Founders Studios President David Harbin. "The support from the Tyrone community and Fayette County has been incredible, and the catalyst for the project. Founders Studios is ready to build on that momentum of support and the excitement of the industry."
At build-out, Founders Studios will feature five "hubs" totaling 250,000 sq. ft. of soundstages and 225,000 sq. ft. of office, construction and flex space.
Along with the cordoned studio complex, Founders Vice President of Marketing Mark Sunderland in an Oct. 11 press release said the development's long-term master plan includes a mixed-use district comprised of a boutique cinema, gourmet restaurants, high-end retail shopping, walking spaces, parks and upscale residential living. The total project is expected to cost more than $150 million.
Weighing-in on the Founders Studios design concept, "House of Cards" and "Stranger Things" producer Iain Paterson said, "The Founders Studios innovative facility design promises to increase efficiency and streamline the production process for episodic television stage work and make that work simpler and safer. I'm looking forward to bringing a production to Founders."
Also commenting on the Founders Studios concept was "Harry Potter and the Sorcerers Stone" producer Mark Marshall.
"Founders Studios is a unique and exciting new development in the burgeoning entertainment infrastructure underway in Georgia," said Marshall. "One of the most enticing features is the lack of exclusive vendor contracts, making it much easier for productions to hold down costs by negotiating with vendors based on rate and quality of service. I am also impressed with the simplified fee structuring. The team at Founders… is helping productions save the two most important things for any producer – time and money."
From his perspective on increasing the total acreage for the Founders Studios development, Dockery said, "This expansion of the project is a thrilling moment for all of us involved in Founders Studios. We are reaching some of our long-term expansion dreams from the very beginning."