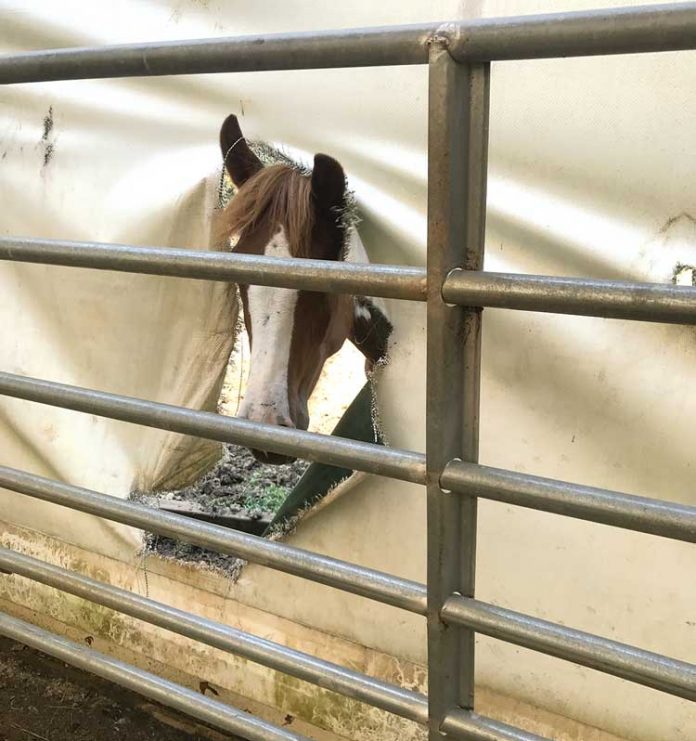 For 20 years, Flying Change Equine Therapy and horse rescue near Fairburn has helped those with requiring all types of therapy needs. Now Flying Change needs help after Tropical Storm Irma caused more than $20,000 in damages.
Executive Director Lissa Corcoran on Friday said the storm damaged fencing in the arenas and pastures and tore the fabric roof over the large, covered arena. The cost to replace the roof alone could total $20,000, she said.
---
Above, Bella the rescue horse peers through the opening in the covered arena at Flying Change Equine Therapy that was damaged by Tropical Storm Irma. Photo/Submitted.
---
Fencing material is needed, along with volunteers who, preferably, have experience, Corcoran said. Another need, one that will help replace the roof, are monetary donations, she explained.
Though located in south Fulton, the nonprofit Flying Change serves therapy clients in Peachtree City.
"We partner rescued horses in therapy with children and adults healing from trauma, including childhood neglect and abuse, domestic violence, sexual assault, human trafficking and combat trauma," Corcoran said in describing the program's mission.
To donate or for more information visit www.FlyingChange.org.