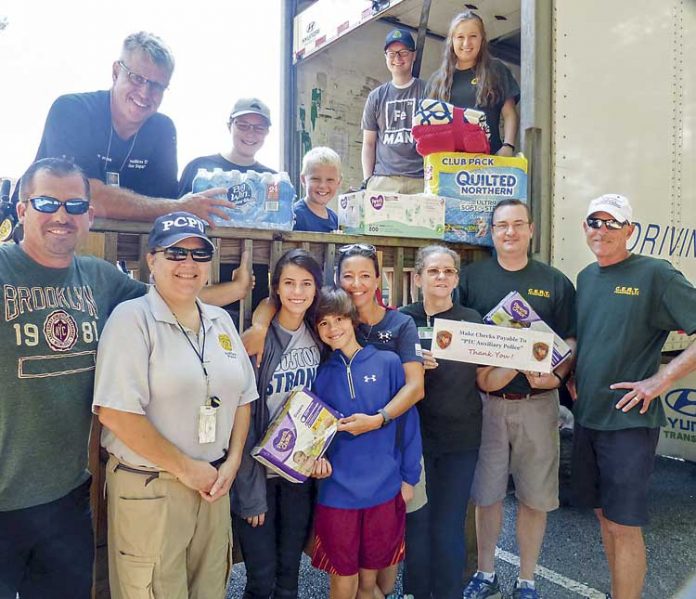 Making a difference: How you can help Hurricane Harvey relief efforts in Texas
Like everyone around our nation and the world, Fayette Countians have been captivated and haunted by the scenes of destruction in Texas. Many of us have family and friends in the disaster zone, and all of us want to help. Locally, we have a variety of civic-minded organizations, businesses, churches and individuals organizing relief efforts to support the people of Texas. Below you will find opportunities to give back and make a difference.
---
Above, the Peachtree City Police and Fire Departments are coordinating "Care for the Coast" to gather supplies in two tractor-trailers, donated by Premier Transportation of Jonesboro, to support Hurricane Harvey relief efforts. Helping to accept donations are (back row, L-R) Lt. Mark Brown, Zander Bray, Jackson Bray, Kolby Bray, Addison Bray; (front row, L-R) Ray Bergh, Arline J. Cuebas, Katrianna Bergh, Gabe Bergh, Lt.Odilia Bergh, Maureen Tompkins, Greg Bray, Steve Metz. Photo/Bonnie Helander.
---
• Midwest Food Bank, 220 Parkade Ct., Peachtree City, is collaborating with the Salvation Army to get food and other supplies to areas hit by Hurricane Harvey. Monetary donations are most needed to help offset the cost of additional food items that must be purchased for emergency relief food boxes (enough shelf-stable food to feed a family of 4 for about 4-5 days), as well as the transportation costs incurred moving the loads into Texas. To donate, go online to peachtree.midwestfoodbank.org/make-a-difference/donate.
You can also assist by assembling hygiene kits and dropping them off at Midwest Food Bank, Monday – Friday, 8 a.m. to 4:30 p.m. Place the following items in a one-gallon, zipper-lock, clear bag: soap (bar or body wash), shampoo, toothbrush and toothpaste, razor, deodorant, nail clippers, wash cloth, comb and brush. For more information, including volunteer opportunities, go online to peachtree.midwestfoodbank.org or call 770-486-1103.
• Peachtree City Police and Fire Departments are loading tractor-trailers, donated by Premier Transportation, to send emergency supplies to support disaster relief efforts. You can drop off items at the Peachtree City Police Department, 350 S. Hwy. 74 (across from Gilroy's) or Fire Station 81, at Paschall Rd. and Hwy. 74, Peachtree City, from 8 a.m. to 8 p.m., Monday through Sunday. Bring one or more of the following before Sept. 11: Cases of water, diapers, unscented baby wipes, hygiene items, gallon-size freezer bags, new sleeping bags, new blankets and new socks. "Help send relief items to those hurt by Harvey. We know everyone feels like us, and we want to do something," said Peachtree City Police Department spokesperson Odilia Bergh. For more information, contact Lt. Bergh at 770-632-4110 or email pdpublicinfo@peachtree-city.org.
• The Newnan Police Department through Sept. 9 is also collecting needed items for those affected by Hurricane Harvey. Needed items include diapers, wipes, baby food and formula, cleaning supplies, canned goods, pet food, school supplies, new plain T-shirts, socks and undergarments, paper products, toiletries, non-perishable foods, baby clothing and toys, first-aid supplies. Items can be taken to the police department located at 1 Joseph Hannah Boulevard in Newnan.
Local businesses and organizations also are gearing up to help:
• Legacy Theatre, 1175 Senoia Rd., Suite C, Tyrone, is collecting a variety of needed supplies to send to Texas. You can drop off your items during office hours (Tuesday, 3 to 9 p.m., Wednesday, 3 to 7 p.m. and Thursday, 3 to 7:30 p.m.) For more information on specific items to donate, go to The Legacy Theatre Facebook page.
• St. Nick's Closet, 1200 Commerce Dr., Peachtree City, is collecting dog and cat food for the relief effort. Initial donations were sent by truck with Keller-Williams Realty donations on Sept. 1, but they will continue to accept pet food donations as long as there is a need. For more information, go to St. Nick's Closet Facebook page.
• Carmichael-Hemperley Funeral Home, 135 Senoia Rd., Peachtree City, is collecting sanitation and personal hygiene supplies, clothing, first aid kits, cleaning supplies, pet supplies, and more. You can drop off your donations Monday through Friday, 10 a.m. to 4 p.m., and Saturday, 10 a.m. to 2 p.m. For more information, call 770-631-9171.
• Crossfit, 303 Kelly Dr., Suite 8, Peachtree City, is a drop-off location for hygiene kits for Midwest Food Bank (see above information on contents of kits) and hopes to collect 100 kits.
• Your Pie, 2015 Hwy. 54 W., Peachtree City, is donating a $1 of each pizza order through Labor Day weekend to the disaster relief efforts.
• SMC3, 500 Westpark Dr., Peachtree City, is pledging an amount up to $10,000 to the Red Cross. Through Sept. 8, SMC3 will double each contribution made by its employees.
• Planet Fitness, 7055 Ga. Hwy. 85, Riverdale, will accept donations of clothing, cleaning supplies, toiletries, water, gift cards and non-perishable food items until Sept. 18. Call 404-671-6737 for details.
• Bennett International Group, 1001 Industrial Pkwy, McDonough, is collecting clothing, food, water, hygiene products and cleaning supplies to be sent in one of their tractor-trailers to Texas. Local Peachtree City resident and CEO of Bennett International, Marcia Taylor, invites everyone to drop off supplies at their McDonough corporate office. They will accept donations until the tractor-trailer is filled. For more information on specific items to donate, call 770-957-1866, ext. 000.
• Local schools — Check with your neighborhood school as a possible location to drop off donations for Hurricane Harvey relief. Schools participating in a relief effort include Oak Grove Elementary School, 101 Crosstown Rd., Peachtree City, Braelinn Elementary, 975 Robinson Rd., Peachtree City, and East Coweta High School, 400 Hwy 154, Sharpsburg.
• Local churches – Check with your local church to learn opportunities to help the victims of Hurricane Harvey.
• First Baptist Church of Peachtree City, 208 Willowbend Rd., Peachtree City, is partnering with Humble First Baptist Church in Humble, Texas, devastated by the disaster, to provide emergency supplies and to minister to that hard-hit area. You can make a donation to the effort, volunteer to go to Texas to help the Humble community or donate specific items. For more information, go to fbcptc.org.
• First Presbyterian Church, 206 Willowbend Rd., Peachtree City, is collecting hygiene kits for Midwest Food Bank. (See above details on what to include in the kits).
• First United Methodist Church, 175 Lanier Ave. E, Fayetteville, is collecting flood buckets and hygiene kits to support the efforts of United Methodist Committee on Relief (UMCOR). For specific instructions on what to include in the kits, go online to umcor.org/UMCOR/Relief-Supplies.
• Southside Church, 777 Robinson Rd., Peachtree City, is directing donations to Samaritans Purse (samaritanspurse.org) and Convoy of Hope (convoyofhope.org).
• Bridging the Gap, 19 First Ave., Newnan, is gathering emergency supplies for groups heading to Texas for recovery and clean-up and will continue to stock their storerooms as needed over the weeks ahead. Items needed include: cleaning supplies (anything that sanitizes), large trash bags, diapers, baby wipes, adult wet wipes, meals in a can (ravioli, beef stew, hardy soups), bags of dog food and cans of cat food.
Bridging the Gap has an abundant supply of clothing at this time. If you would like to make a monetary donation, checks can be made out to Bridging the Gap and mailed to P.O. Box 223, Newnan, GA 30264. Please write Texas in the memo. Make online donations at btgcommunity.org. For more information, go online to btgcommunity.org or call 770-683-9110.
• Kroger and the Red Cross – While getting groceries at your local Kroger, you can make a donation to the Red Cross relief efforts at check-out. You can also support the Red Cross by texting HARVEY to 90999 to donate $10 to Texas disaster relief. For more information, go to redcross.org.
• Salvation Army of Atlanta is accepting donations for long-term assistance in Texas. You can send a donation check (designated for Hurricane Harvey) to The Salvation Army, P.O. Box 1959, Atlanta, GA 30301 or make an online contribution at helpsalvationarmy.org. Officials at Salvation Army encourage monetary donations which help disaster relief workers to purchase specific items and services that are needed. For more information, call 1-800-725-2769.
• Georgia Baptist Disaster Relief Fund — Trained Georgia Baptist Disaster Relief volunteer teams will be deployed when the flood waters recede to help with the aftermath of Hurricane Harvey. The teams' primary focus includes mass feedings, childcare, mud-out help and chaplaincy.
To help with their efforts, individuals and groups can put together "Buckets of Care" that include specific safety equipment, tools, first aid supplies, and a homeowner instruction sheet on how to mud-out a home, placed in a five-gallon bucket with a lid. For information on assembling a Bucket of Care, go online to missiongeorgia.org/georgia-disaster-relief. To mail a donation, make checks payable to Disaster Relief and send to Disaster Relief Georgia Baptist Mission Board, 6405 Sugarloaf Parkway Duluth, GA 30097.
• Georgia Baptist Disaster Relief is offering a disaster relief orientation, a credentialing session, on Sept. 16. For more information on becoming a disaster relief volunteer, go online to missiongeorgia.org/georgia-disaster-relief.
Other national organizations that are directly supporting the Hurricane Harvey relief efforts include, Global Giving (globalgiving.org/Harvey), Habitat for Humanity (habitat.org/Harvey) and National Volunteer Organizations Active in Disaster (nvoad.org).
Carefully consider where, how, and what you give in disasters
Americans are generous folks and quick to help in a disaster. Often, however, that generosity can be a hindrance rather than a help. Make sure your donation is needed and will go where it can actually do some good and help people! The Better Business Bureau Wise Giving Alliance offers some advice and tips on making good decisions about assisting in a disaster:
Be cautious when giving online.
Be cautious about online giving, especially in response to unsolicited spam messages, and emails and social media posts that claim to link to a relief organization. If you want to give to a charity involved in relief efforts, go directly to the charity's website.
Rely on expert opinion when it comes to evaluating a charity.
Be cautious when relying on third-party recommendations such as bloggers or other websites, as they may not have fully researched the relief organizations they list. The public can go to give.org to research charities and relief organizations and verify that they are accredited by the BBB and meet the 20 Standards for Charity Accountability.
Find out if the charity has an on-the-ground presence in the impacted areas.
Unless the charity already has staff in the affected areas, it may be difficult to bring in new aid workers to provide assistance quickly. See if the charity's website clearly describes what the charity can do to address immediate needs.
Find out if the charity is providing direct aid or raising money for other groups.
Some charities may be raising money to pass along to relief organizations. If so, you may want to consider "avoiding the middleman" and giving directly to those that have a presence in the region.
Look into gifts of clothing, food or other in-kind donations.
In-kind drives for food and clothing, while well intentioned, may not necessarily be the quickest way to help those in need – unless the organization has the staff and infrastructure to distribute such aid properly. Ask the charity about its transportation and distribution plans. Be wary of those who are not experienced in disaster relief assistance.
For more tips, advice and information on charities and charitable giving, visit BBB Wise Giving Alliance at give.org.