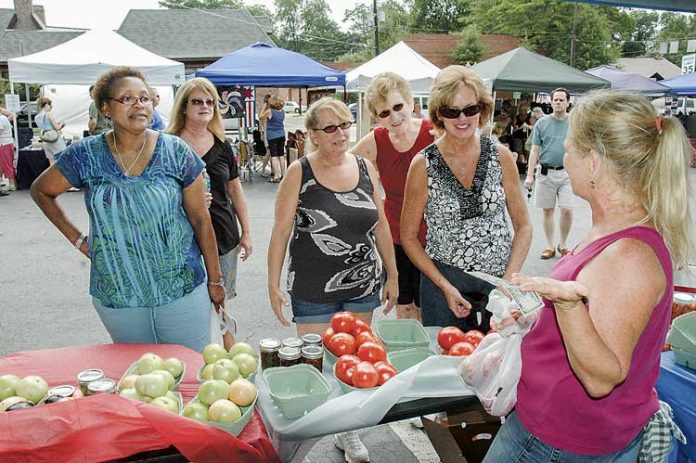 Main Street Fayetteville's farmer's market events are now called MarketPlace, 2017 and it happens this Saturday, July 15, on the historic grounds of the Old Fayette County Courthouse from 10 a.m. to 2 p.m.
Unfortunately, inclement weather prevented the first MarketPlace this year which was originally scheduled for June 24.
MarketPlace is all about homemade, homegrown and handcrafted. Guests will find locally roasted gourmet coffees, baked goods, chocolates and, of course, boiled peanuts. You'll find one-of-a-kind jewelry and craftworks, and you'll enjoy picking farm-fresh produce and shaking the hands that grew it.
"We have a new name this year, and we are excited to bring you lots of unique items along with local musical talent to entertain you while you shop," said Main Street Fayetteville Program Manager Joyce Waits.
Waits noted that the historic courthouse will be open during the MarketPlace event, and guests will be able to pick up informational brochures, ornaments, souvenir T-shirts and more.
Come out Saturday, meet your neighbors and enjoy new flavors. MarketPlace is your place.
While you're marking your calendar, don't forget to circle the Saturdays of Aug. 19, Sept. 23 and Oct. 28, which are the next MarketPlace dates for 2017.
Do you make or grow something worth selling at a future MarketPlace? Contact Joyce Waits for a vendor application: jwaits@fayetteville-ga.gov or 770-719-4173.
Find more events at fayetteville-ga.gov/events.