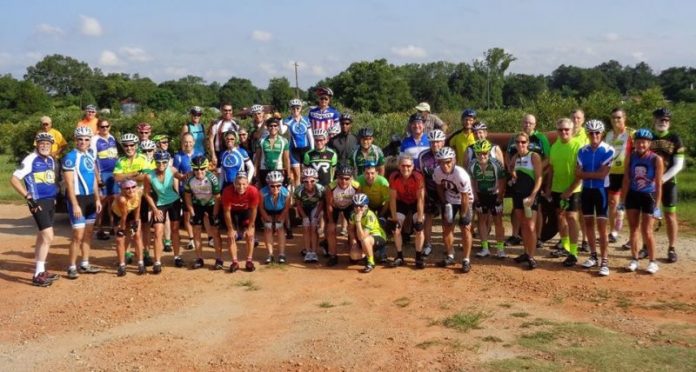 The SouthSide Cycling Club and Piedmont Newnan Hospital welcome community members to participate in a cycling event, with proceeds benefitting the Thomas F. Chapman Family Cancer Wellness at Piedmont Newnan, scheduled for Saturday, July 8, in Senoia.
"We are grateful to be able to support Cancer Wellness at Piedmont Newnan and thank our sponsors for their generous donations that make these proceeds possible," said Mike Cardone, president of the SouthSide Cycling Club. "We encourage cyclists of all levels to participate."
The ride offers several options to avid cyclists and beginners alike with a century (103-mile), metric century (66-mile), 31-mile, and eight-mile family fun ride through the quiet country roads of Coweta, Pike and Meriwether counties. The ride is fully supported with well-stocked specialty rest stops and SAG vehicles, plus post-ride refreshments. Local dermatology offices will be conducting free skin cancer screenings following the event.
"We are proud to be a part of this beautiful ride through Coweta and neighboring counties and thankful for support from our local community to enable us to provide cancer patients and their care givers complimentary professionally-led support programs," said Vicki Kaiser, executive director of oncology and community affairs at Piedmont Newnan.
Proceeds from this ride provide support to Piedmont Newnan Cancer Wellness. As a not-for-profit hospital, Piedmont Newnan provides supportive services to cancer patients and their caregivers through the Thomas F. Chapman Family Cancer Wellness Center, located on the third floor of the adjacent Piedmont Medical Plaza. The center provides complimentary professionally-led support programs such as yoga, massage therapy, professional counseling, support groups, cooking demonstrations, art therapy and many more to anyone who has ever been diagnosed with cancer.
For more information and ride details, visit southsidecycling.com. Those interested can register at active.com.