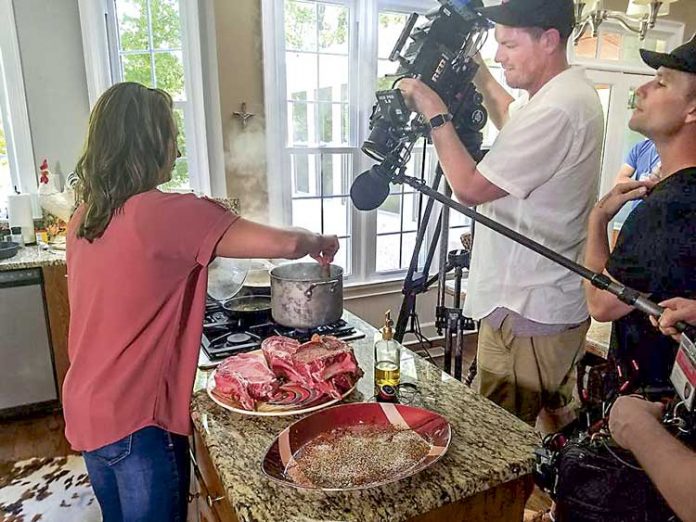 Slaw and Order. Leave it to a handful of Peachtree City cops to come up with a name for the team of four who will be featured on June 21 in a live television cooking challenge.
"We are excited to announce that four members of the Police Department have been auditioning for several months for a chance to compete on a live cooking show hosted by Chef Gordon Ramsey on Fox," said Assistant Chief and team member Stan Pye who is joined Lt. Mark Brown, Det. Heather Scott and Cpl. Justin Mobley.
Pye said the department was contacted several months ago by a casting company from Los Angeles.
"They requested a team of four people to represent the department, and the city, in a new cooking show that recently premiered May 31 on Fox," said Pye. "The show is called the 'F Word.' The title of the show stands for Food, Family, and Fun.
Following several months of cooking challenges, and several Skype interviews, the show's production film crew was sent to Peachtree City to follow the four of us around our city."
Pye said the footage from the production film crew is appearing in several trailers and on several different TV networks and online sources.
"Our team's competition will be shown live on June 21 at 9 p.m. on Fox. If we are successful in winning our challenge that evening, we could be selected to return for the finale," Pye explained.
As for his teammates, Pye said spoke with Scott first, then with Mobley and Brown.
"We got together and practiced cooking and we jelled," Pye said of the budding culinary quartet, noting that Mobley provides the comic relief for the group. "Then they gave us a selection of dishes and the challenge to see how many omelets we could cook in five minutes. The producers loved how we bantered with each other."
With that hurdle crossed, a film crew arrived in May to follow the gastronomical group around the police department to the shooting range.
"Then we cooked for the production team," Pye said. "Later, the producer called and told us that we're on the show.
The culinary quartet will fly to Los Angeles on June 19 and will have a chance to get acclimated to the production set. Then comes June 21, when the show will be broadcast live.
"There's never been a live cooking competition on TV. If we win we'll have a chance to compete in the finale," Pye said with a chuckle, adding that "We're going to go out there and cook and have a good time."