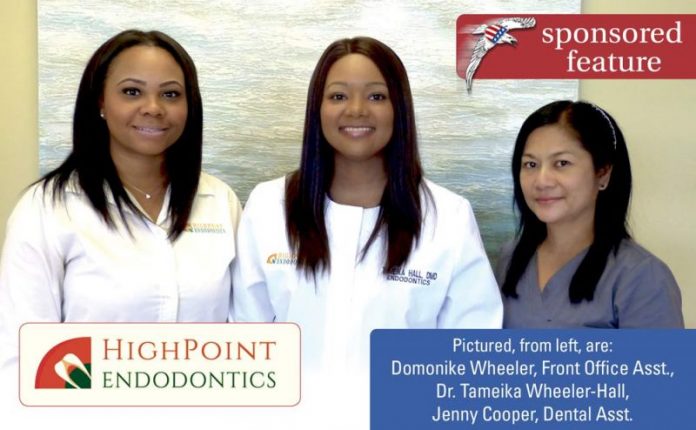 Sponsored Content
HighPoint Endodontics, the private practice of Dr. Tameika Wheeler-Hall, DMD, specializes in root canal treatment, root canal surgery, cracked teeth, and traumatic dental injuries. The practice uses cutting-edge technology to ensure better diagnoses and up-to-date specialty treatments. Many forms of insurance are accepted.
Most people know they can see specialty physicians for many different issues, but not everyone is aware that this is true for doctors of dentistry, too. Dr. Tameika Wheeler-Hall of HighPoint Endodontics is an endodontist, a doctor who specializes in helping patients maintain healthy teeth by treating the soft tissue within the tooth. Procedures include root canal therapy, root canal surgery, diagnosis and treatment of cracked/broken teeth, and traumatic dental injuries.
"Endodontists focus on specific aspects of dental care," Dr. Wheeler-Hall explains, "so we are up-to-date on the latest techniques and treatments. My practice is committed to high-quality care that begins with accurate diagnosis, so I've invested in cutting-edge technology, like the CareStream 8100 Cone Beam CT 3D imaging system, which gives me a much deeper, more comprehensive look at a patient's teeth compared to most standard imaging equipment."
Dr. Wheeler-Hall completed her B.S. in chemistry at UWG and worked as a chemist before attending dental school. She earned a Doctor of Dental Medicine degree from the Medical College of Georgia, completed her general practice residency at LSU in New Orleans, and then earned a certificate of advanced graduate studies in endodontics from the University of Alabama, Birmingham. While completing her specialist training, she served for one year as an endodontic resident at the VA Medical Center in Birmingham. After completing her training in 2015, she returned to Atlanta to practice. In November 2016, she opened HighPoint Endodontics in Newnan and says she really appreciates the small-practice model.
"I worked at a large practice for a while," she says, "but I really wanted to be able to serve my community in a more personal environment. Because I own my practice, I can choose to make investments in top-notch equipment, and I can put in the time and work each patient needs."
Unlike many private specialists, HighPoint Endodontics is in-network for several forms of insurance.
"I like for people to have options and to know what those options are," Dr. Wheeler-Hall says. "Our goal is to provide the best possible treatments and to work with each patient to decide what's best for them."
Specialty practice focused on root canal treatment, root canal surgery, cracked teeth, and traumatic dental injuries
Practice of Dr. Tameika Wheeler-Hall, DDS, a qualified, experienced endodontic specialist
and Atlanta native
Latest technology and treatments available, including the Cone Beam CT 3D Imaging and dental operating microscope
Many forms of insurance accepted
Private practice model built on high quality and personal care
Sponsored by HighPoint Endodontics  •  1201 Lower Fayetteville Rd. Ste. F, Newnan  •  770-824-4270  •  hpendo.com