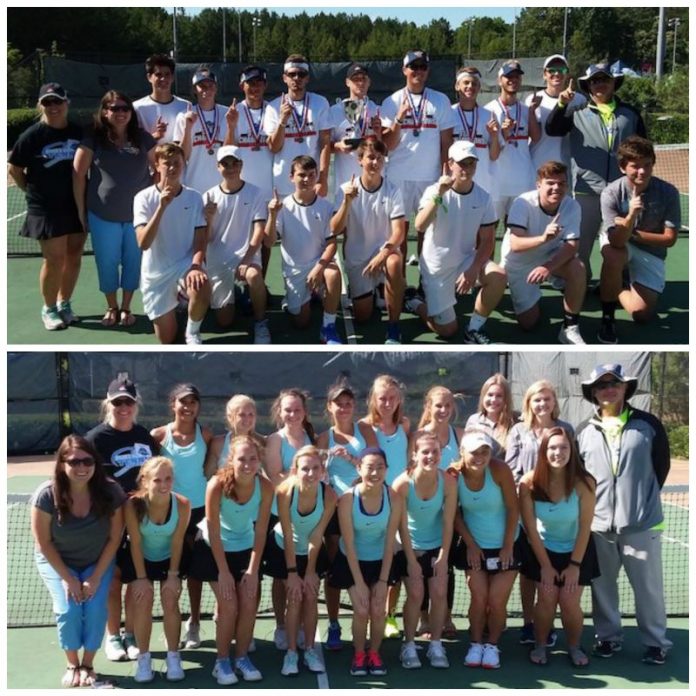 The Starr's Mill Panthers captured their third state tennis title this decade after a 3-0 sweep over Carrollton Saturday in the AAAAA championship round of this year's GHSA tournament at Clayton County International Park in Jonesboro.
The boys, who finished second in the state in 2015 and 2016, won the AAAAA title in 2013 and the AAAA championship in 2010.
The girls finished second in the state with a 3-1 lost Saturday to Chamblee. The team also posted a state runnerup finish in 2015 after taking the 2014 crown. They also won the AAAA state title in 2007.
Baseball: McIntosh and Starr's Mill are still in the hunt, reaching the state quarterfinal round. McIntosh won a weather-delayed game Friday to take the second-round series against Arabia Mountain in three games. The Chiefs play a doubleheader today at Locust Grove while the Panthers host a twin bill today against Decatur. Each series will include a third game tomorrow if necessary.
Lacrosse: The boys' and girls' teams from McIntosh and Starr's Mill all reached the quarterfinals Saturday, and all were knocked out: McIntosh boys by Westminster, Starr's Mill boys by Lovett, McIntosh girls by Kell, and Starr's Mill girls by Westminster.
Soccer: Three state semifinal matches of local interest were scheduled for Tuesday evening after press time. McIntosh was to host a boys' match against Grady and send the girls on a road trip to Flowery Branch, who eliminated Starr's Mill last week. Whitewater's girls faced Buford on the road. State finals are this weekend.
Golf: The state tournament is May 22-23.
Track: The state meet is this weekend.