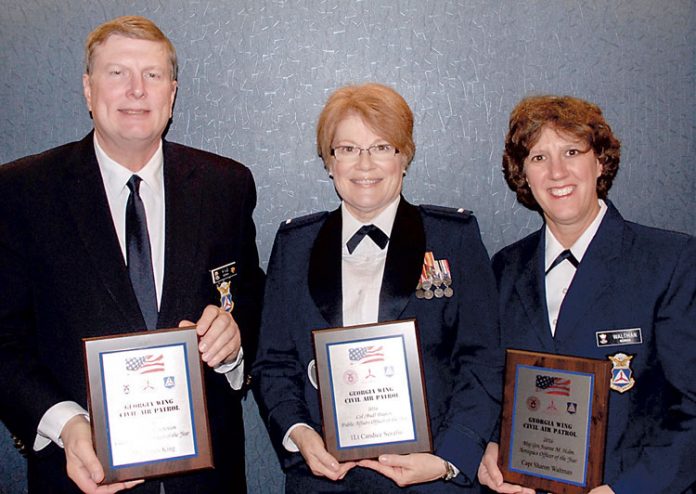 The Peachtree City Falcon Field Composite Squadron of the Civil Air Patrol won several awards at the annual Georgia Wing conference and awards banquet last Saturday at the Peachtree City Conference Center. Three members received annual awards: Major James King-Jack Sorenson Cadet Program Officer of the Year; First Lieutenant Candice Serafin-Colonel (Bud) Payton Public Affairs Officer of the Year and Captain Sharon Waltman-Maj Gen Jeanne M. Holm Aerospace Education Officer of the Year.
These awards are given annually for going above and beyond what is required of the duty positions. 
The squadron also received the Civil Air Patrol Unit Citation Award for exceptionally meritorious service. This is the second time the squadron has been awarded this prestigious award. Commander Major David Serafin said he is very proud and honored to serve a great team.
Peachtree City Falcon Field Composite Squadron is an all volunteer youth and adult organization serving the community, state and nation focusing on three missions: aerospace education, cadet programs, and emergency services.
Currently, GA-116 meets every Thursday at 6:30 p.m. at the ATP Flight School, 1120 Echo Court, Peachtree City Atlanta Regional Airport. Ages 12 and up are welcome to join. Find out more about GA-116 at www.GA116.org or find the group on Facebook- Peachtree City Falcon Field Composite Squadron GA-116, Civil Air Patrol.