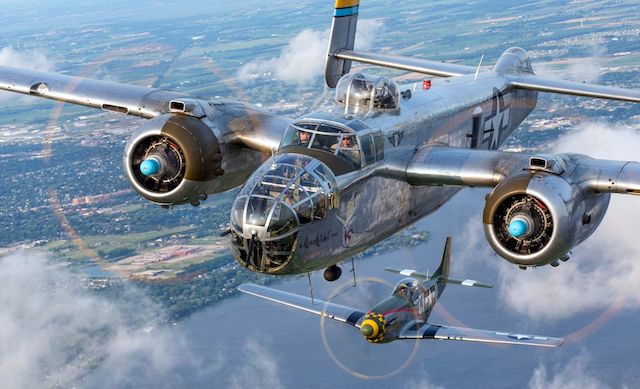 For the fourth consecutive year the Commemorative Air Force (CAF) Dixie Wing 1940s hangar dance fundraiser "Keep 'em Flying" will be standing room only.
"We are absolutely delighted to have sold out" said Jay Bess, CAF Dixie Wing leader "we have an amazing evening planned for people who enjoy big band music and all things 1940s."
Lucky guests will hear the Peachtree Jazz Edition perform standards made famous by Glen Miller, Tommy Dorsey and Benny Goodman. Described as one of the best bands in Atlanta, the Peachtree Jazz Edition has a loyal swing-dance following. Also performing are the Freedom Belles, a female trio that performs 40s classics by the Andrews Sisters and other stars.
The dinner dance is one of several highlights scheduled during WWII Heritage Days, April 22-23. The history festival is the largest World War II and 1940s-theme event in Georgia and a can't-miss experience for anyone who enjoys nostalgia, big band music, swing dance, historic aircraft and military vehicles, antique cars and vintage fashion. The program features reenactors portraying Axis and Allied troops, sailors, airmen and Women Army Service Pilots (WASP).
"A 1940s-theme hangar dance is a wonderful capstone for the weekend," said Jennifer Johnson, Executive Director of the Peachtree City Convention and Visitors Bureau. "WWII Heritage Days is unique and entertaining, but it also helps the public connect with the service and accomplishments of family members and all Americans during the Second World War."
The event brings hundreds of participants and guests to the area from throughout the southeast.
All proceeds from the dance help cover costs associated with WWII Heritage Days, as well as the ongoing preservation of the group's historic aircraft.
Suggested donations for WWII Heritage Days are $10 for adults 17 and older and $5 for children 11-17. Children 10 and under and World War II veterans are admitted free. WWII Heritage Days will take place rain or shine. Please no pets. For more information, please visit www.wwiidays.org or call 678-364-1110.
 
About the CAF Dixie Wing Warbird Museum
The CAF Dixie Wing, based in Peachtree City, Ga., was founded in 1987. The Wing, one of the largest units of the Commemorative Air Force, maintains and flies seven WWII aircraft including a P-51 Mustang, an FG-1D Corsair and rare types such as the SBD Dauntless dive bomber and P-63A Kingcobra. The Dixie Wing organizes two large events a year — WWII Heritage Days and the Atlanta Warbird Weekend. The unit, composed of 300 volunteers, is a non-profit, tax-exempt organization that relies on contributions of time and funds to carry out the mission of the CAF.
The Commemorative Air Force is a non-profit organization dedicated to flying and restoring World War II aircraft. Based in Dallas, Texas, the organization has more than 13,000 members and operates a fleet of more than 166 World War II aircraft. www.commemorativeairforce.org