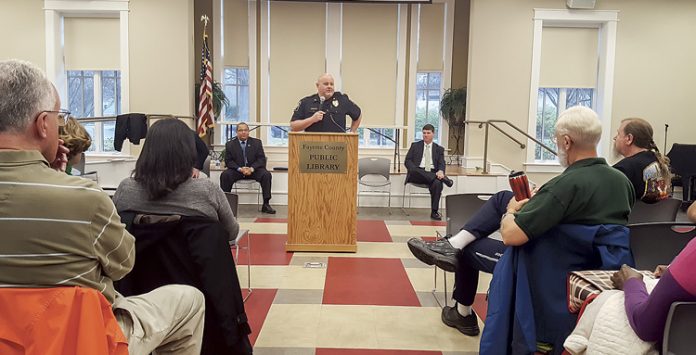 A community safety meeting held March 18 at the Fayetteville Library was attended by numerous residents and a wealth of local officials.
The event was initially organized by Realtor Heidi Becker.
"I was reading comments and debates on Nextdoor.com about whether or not Fayetteville was still a safe place to live," Becker said. "There are 30 neighborhoods in Fayetteville communicating on a daily basis and this is a constant theme. When it became obvious that people had real concerns to be addressed, I offered to host a meeting to answer three questions: 1) What can we do in our own neighborhoods to keep our families safe? 2) What are local officials doing to protect us? And 3) How can we form partnerships with the city to keep Fayetteville a great place to live, work and play?"
On hand to address those questions were Fayetteville Mayor Ed Johnson, Police Chief Scott Gray, Deputy Chief Jeff McMullan, District Attorney Ben Coker and City Manager Ray Gibson.
Becker said central to the event was the desire to address a growing concern about crime and safety in Fayetteville.
Johnson gave an overview of Fayetteville including the addition of a new film academy, expansion of Georgia Military College and the ongoing success of Pinewood Atlanta Studios. Johnson said the city is seeking out quality restaurants, not just fast food, and other businesses to move to Fayetteville.
Gibson spoke of current and new initiatives that connect the citizens with the city, such as a new welcome center at the Pavillion shopping center, and pledged to hold more town hall meetings to engage the public, Becker noted.
Becker said that Gray in his comments stated that overall crime in Fayette County is down 6 percent. Chief Gray said to look for a lot of positive changes in the next six months to a year.
Gray said the Fayetteville Police Department is moving away from "old police work," which is reactive, and towards more proactive and preventative programs, according to Becker.
"They want to have more face to face time with the public through a 'Coffee With A Cop' program, encouraged people to call Gray or the police station if they see anything questionable and advised residents to check their social media site for updates on crime and activity," Becker said.
Gray and McMullan offered tips on how to start a neighborhood watch program and stated they are available to meet with each neighborhood individually.
"They answered tough questions from resident Renee Spence about the perception of increased crime at the Pavilion," Becker said.
Coker at the meeting committed to bringing back the kind of penalties that "will make criminals not want to operate in Fayette County" and commended Fayette County for being the safest county in the Griffin Judicial Circuit.