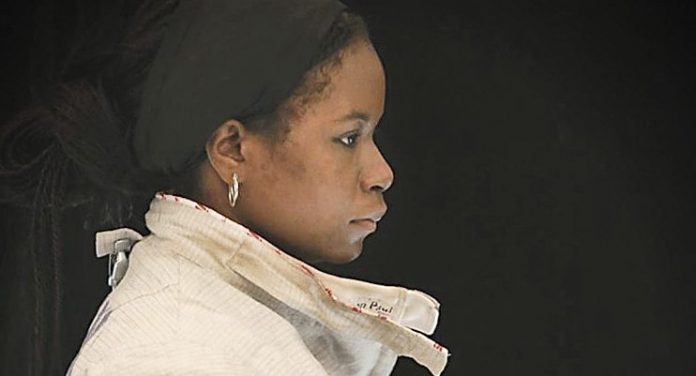 Every day Lena Johnson picks up her books and goes to her classes at Columbia University in Manhattan, where she is a junior.
Then, when her studies are over, she picks up her sword.
The Peachtree City native has achieved international success as a fencer, competing across the globe since her early teens and now among the very best in the NCAA with hopes of future Olympic participation.
Johnson was first exposed to the sport at the age of 8 at a summer camp in Fayetteville. She didn't give it much thought after that week because at the time she was playing competitive soccer, which she continued for several more years.
In 2008 she read a book titled "The Shakespeare Stealer" and took note of the numerous sword fighting scenes in the story. "I remember that I'd done something like that before and wanted to do it again," she said.
She got a refresher at a camp in Atlanta, where a coach recognized her natural talent and encouraged her to stick with it. "He told me I couldn't quit," Johnson said with a laugh.
That coach was proven right. Within a year Johnson won her first national competition in Oregon in the under-12 category. From there she continued training and competing with the Nellya Fencers club in Atlanta, commuting from Peachtree City several times a week. In part because of her training schedule, she wound up attending and graduating from Decatur High School.
Johnson made the under-16 national team and then the junior national team while in high school. Her international competitions have taken her to Senegal, France, Italy, Germany, Croatia and China among other places. She has placed near the top in the women's saber and junior women's saber at numerous events in the United States and abroad.
Competing for a high school team was not an option because high school fencing virtually does not exist in Georgia, although that is changing, Johnson said. Likewise, she realized that the northeastern United States is the best part of the country for continued training and improvement.
"I knew that for anyone with Olympic aspirations, the best place to go was New York City," she said.
She attends Barnard College, an all-female liberal arts school under the Columbia University umbrella, majoring in American studies with a concentration in ethnicity and race.
Johnson was named All-America honorable mention in each of her first two years in NCAA competition, making All-Ivy League second team as a freshman. She took ninth place at the NCAA Championship both years after earning silver and bronze medals at the NCAA Northeast Regional.
While she continues her college career, the next goal is the Olympics. The most recent Summer Games were only six months ago, but the process of working toward the next Olympic trials has already begun.
"I'm at the beginning of that very long journey," said Johnson.