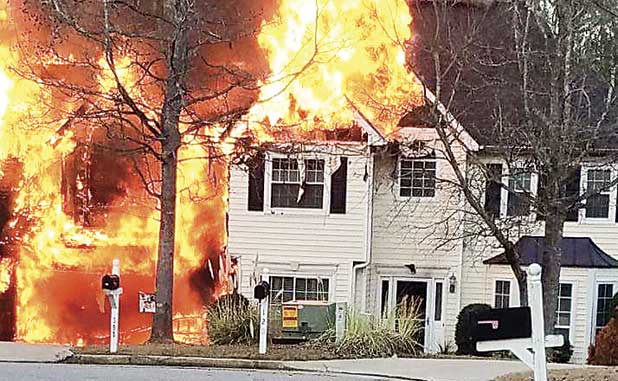 A Jan. 12 fire at a Peachtree City residence caused major damage to the home but no injuries to the three people in the house when the fire was discovered.
Peachtree City Fire Rescue units at 5:36 p.m. responded to 300 Vendella Circle off Kedron Drive and found the home fully involved, according to department spokesman Ron Mundy, adding that the multiple calls were received at 5:32 p.m.
Mundy said three teenage girls were in the home at the time of the fire after having arrived home earlier in the afternoon. The girls heard a popping noise in the garage and opened the kitchen door to find smoke and heavy fire in the garage. They attempted to close the door then exited the home, Mundy said.
Mundy said the fire spread from the garage into interior rooms and onto the roof. The fire had burned through the roof by the time firefighters arrived, Mundy noted.
The home is believed to be a total loss, Mundy added.
The cause of the fire is being investigated though it is not thought to be suspicious in nature, Mundy said.
Mundy reminded residents to always maintain working smoke alarms and to keep interior doors close, especially those leading to a garage area. He noted that bedroom doors should also be closed during the nighttime because even a hollow-core door will keep smoke and fire at bay.