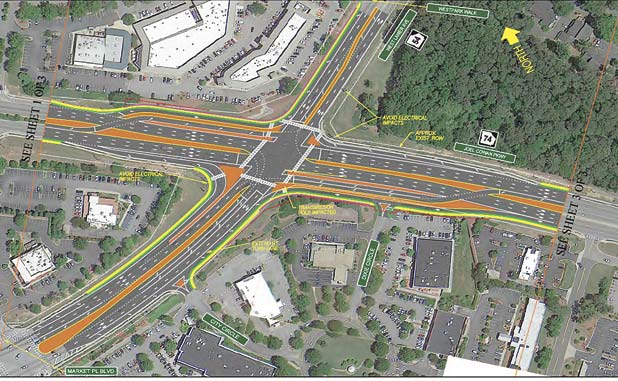 New continuous flow intersection may replace current jam
Tired of traffic back-ups at the intersection of Georgia highways 54 and 74 in Peachtree City? Those days are scheduled to come to an end in 2020 when the Georgia Department of Transportation (DOT) is expected to install a new type of intersection designed to keep traffic flowing.
Announced Oct. 20 by Peachtree City Manager Jon Rorie, DOT has budgeted and funded plans for a Continuous Flow Intersection (CFI) or another effective option for the heavily-used intersection, Rorie said.
"The CFI or something is coming in 2020," Rorie told council members.
A CFI intersection design moves left-turn vehicles across the opposing direction of traffic approximately 600 feet before reaching the intersection. The design removes the need for a protected left-turn phase and allows the use of a two-phase traffic signal, according to DOT.
For an example of a similar CFI in Florida, visit www.youtube.com/watch?v=uqlqPdSZUnQ&sns=em.
Rorie said DOT representatives will come to Peachtree City to conduct public meetings on the intersection improvements, adding that DOT will bring other options to the CFI model. As it stands today, construction will begin in 2020, Rorie said.
Another potential intersection improvement, and one that would costs millions more than the estimated $5 million for the CFI, involves installing a left-turn overpass in the intersection.
Rorie surfaced the idea of setting aside $1 million from the upcoming Special Purpose Local Option Sales Tax (SPLOST) referendum assuming it passes, to leverage additional funds for the DOT intersection improvement.
It was in recent times that major improvements to the intersection was expected many years from now. Yet current daily traffic volume suggests that the two roadways are currently experiencing over-capacity conditions during peak traffic hours during weekdays mornings and evenings and on Saturdays during the early- to mid-afternoon hours.
Beyond that, data showed the projection of a 60 percent increase in vehicular traffic on Hwy. 54 by 2040. That represents an increase from 35,000 vehicles per day to 60,000 vehicles per day.
Traffic on Hwy. 74 is expected to increase by 13 percent during the same period, from 29,000 vehicles per day to 33,000 vehicles per day.