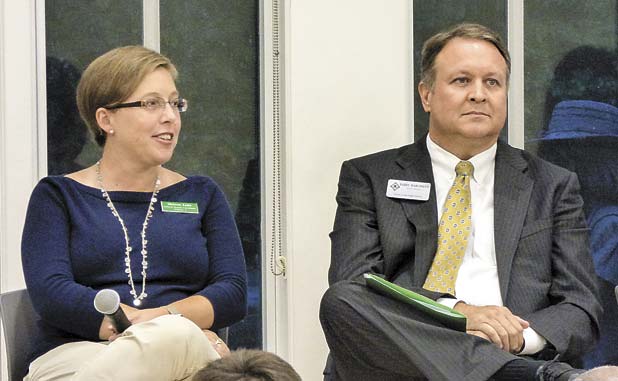 School board candidates debate standards, technology challenges, teacher pay
Candidates for two Fayette County Board of Education seats were part of a forum held Sept. 29 at the Fayetteville Library. Candidates for the District 1 school board seat include Democrat Melissa Lohr and Republican Barry Marchman. District 5 candidates include Republican Brian Anderson and Democrat Ching Ching Yap.
One of the questions posed to the candidates asked about what they see as the biggest challenge to the school system and what they can do to impact it.
Marchman in response said it is important to hold every child to the county standard and to allocate resources where needed.
"What we've done as a board is to allocate more resources to the schools that need them," Marchman said, providing a number of examples. "So I think our biggest challenge is realizing that we are not a community of Delta pilots anymore and we need to hold every child that comes our way to the same standard."
Yap spoke next, saying it is important to understand the needs of each school.
"We need to treat each school differently and make sure we understand. I do not think we put in enough effort to understand the differences among the schools," Yap said.
Up next, Anderson said, "I think the biggest challenge is that we don't know what's coming down the pike," citing the example of the way the internet changed educational outlooks and academic pursuits.
"So I think we're trying to educate students for careers that don't exist yet, and I think there's the challenge of helping teachers use technology in a way they've never done before," Anderson said, noting the importance of preparing students for a wide variety of career choices.
Lohr in her response said one the biggest challenges is in support of teachers.
"Nowadays, teachers are expected to provide an individualized room and differentiated learning. When you have a large class size, and you expect that much more from a teacher, it's hard," Lohr said. "I think our school board needs to provide more professional development and increase pay."
Another question asked if Fayette is on-track with leveraged technology and if too much is already in use or if more is needed.
Yap said there have been occasions in Fayette's past when technology was available but not being used.
"But I think we are moving in the right direction, and acquiring more and learning more about technology and improving our students," she said.
Anderson followed, saying technology can be a slippery slope, saying it can become a distraction to students and teachers. Citing an example of a local inadequacy, Anderson said Coweta County has a Chromebook for each student while Fayette has one for every 10 students.
"Yet we're doing a phenomenal job with some other (technologies)," he said, citing the use of Smartboards in classrooms.
Lohr in her comments noted that Fayette does not have enough Chromebooks, adding that teachers sometimes bring technology into the classroom.
"When all the students aren't using the same technology it takes that much longer for our teachers to implement (needed objectives)," she said.
Marchman responded, saying the school board has increased teachers' pay, has dramatically increased professional development for teachers and has approved the purchase of additional Google Expedition units to provide virtual reality learning.
"And we have a visual animation program for which we wrote the curriculum for the entire state and we hope to parther with Pinewood so that our students can gain workplace experience," Marchman said, adding that more Chromebook purchases are in the works.
The forums were sponsored by the Fayette County Democratic and Republican parties, the Fayette Chamber of Commerce, the Fayette NAACP and the Fayette County Issues Tea Party.