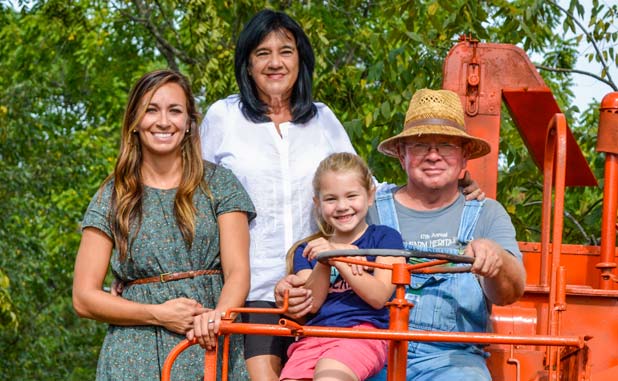 The south Fayette County community of Inman will be taking a step back in time this weekend with the old-time activities that make up the 20th annual Inman Farm Heritage Days.
The three-day event, on Friday, Saturday and Sunday, will showcase the tractors and equipment that once worked the fields around the show grounds at Minter's Farm, 283 Hill's Bridge Road in southeast Fayette County, and there are many other exhibits that make the show far more than just tractors and engines, although those are the most popular for many who attend.
Featured exhibits include a pottery exhibit complete with a wood-fired kiln, broom-making, weaving, threshing, syrup-making, a blacksmith shop, a sawmill, a 100-year-old printing press and a moonshine still.
There also will be pedal tractors for kids to ride, food vendors, displays of various other crafts and music.
Inman Farm Heritage Days also will be hosting Georgia Orange Extravaganza, the first gathering of a Georgia-based Allis Chalmers group of collectors.
The Heritage Days show was founded by Rick Minter and his wife Joanne, but in recent years the leadership torch has been passed to their daughter Stephanie Minter Adamek.
"I grew up here in Inman and often look back at how much has changed, especially in the last 20 years," Adamek said. "It's an honor to be a part of something that preserves the past and the history of this county every year.
"Heritage Days is a time where we all come together from different counties and even states to educate people in the way things were. Many of the demonstrations here are a lost art. It's important to teach the next generations how to continue this rich heritage," Adamek said. "Learning isn't easy, but it is all worth it in the end."
Adamek said she has been involved with the event for a long time.
"The show has been a part of me for almost two-thirds of my life. Every year is better and better. For me, one my least favorite parts of the show is Monday morning after the three-day event. The stress is gone, but the loneliness sets in. We enjoy having everyone here."
And next-generation show host in the making, Adamek's daughter Abigail, already is showing an interest in farming and farming ways.
"Abigail looks forward to the show just as much as the next person. She enjoys all her friends and family members being in one place, having a good time. After all, she is the fourth generation to be a part of Inman Farm Heritage Days. It's in her blood," she said. "I hope she will continue the tradition and carry the show on to be bigger and better."
As it has in the past, Inman Farm Heritage Days offers free admission thanks to the hard work of a dedicated group of volunteers and the contributions of generous sponsors. Visitors can support the show by purchasing souvenir programs and t-shirts.