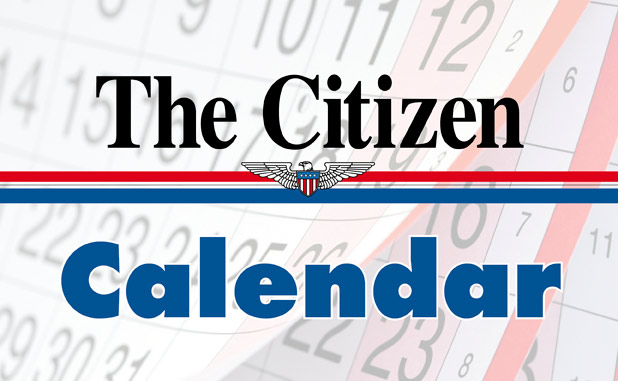 Things to do
August 11
The Greater Fayette Republican Women's Club will be hosting an evening meeting tonight at 6 p.m. at the Fayette Republican Party Event Center, 174 Glynn Street North in Fayetteville. Georgia Attorney General Sam Olens will be the guest speaker.Georgia Trend magazine has listed Olens as one of the "100 Most Influential Georgians" every year since 2005 and he is their 2016 Georgian of the Year. The Cobb Chamber of Commerce also honored Olens for his dedication to community and philanthropic service by naming their annual community service award the "Sam Olens Business Community Service Award."
This is a free event open to the public. Refreshments will be served. For more information, contact Leah Williamson at gfrwcga@gmail.com.
August 12
The 2016 Atkinson Arnall Tribute Dinner is scheduled for today at 7 p.m. at the Newnan Centre. The keynote speaker will be Atlanta Journal Constitution's award-winning political cartoonist Mike Luckovich. U.S Senate candidate Jim Barksdale, state Rep. Robert Trammell, and County Commissioner Al Smith will also be Tickets for the 2016 Atkinson Arnall Tribute Dinner are $50 each. The dinner will be preceded by a cash bar cocktail hour featuring the musical stylings of Nichelle Young. Tickets are available now through PayPal at www.cowetademocrat.com. Checks made payable to the Coweta County Democrats can be mailed to P.O. Box 276 Newnan, GA 30264.
For more information email chair.cowetadems@gmail.com or phone 678-895-0370.
August 13
The Ridge Nature Area grand opening is today from 10 a.m. to 2 p.m. Southern Conservation Trust and the city of Fayetteville invite the public to celebrate the many volunteers, scouts, donors, partners and other supporters who have helped bring this unique 308 acre nature area to fruition. The Ridge is a former farm in the heart of Fayette County and is located just off Highway 54 at the end of Burch Road. It is the sixth public nature area that the Southern Conservation Trust has developed for the public to enjoy.
Community members are invited to participate in Piedmont Newnan Hospital's August Walk with a Doc featuring Mubashar Munir, MD. today from 8:30-9:30 a.m.This year, each Walk with a Doc event will take place at the hospital and participants will meet in the main lobby (745 Poplar Road.During the event, Dr. Munir, who specializes in gastroenterology, will take a few minutes to talk about a health topic of his choice and participants can ask questions for the remainder of the session (approximately 40 minutes). Registration is required. Participants will receive a T -shirt and a pedometer. To register visit piedmont.org/walkwithadoc or call 877-527-3712. Please arrive by 8:15 a.m. as the walk will begin promptly at 8:30 a.m.
There will be a Walk with a Doc event on the second Saturday of every month through November of this year. For more information about Piedmont's Walk with a Doc program, visit piedmont.org/walkwithadoc.
The Fayette County government is announcing its third event for local residents with kayaks and canoes to assist with cleaning water reservoirs. The program is called Water Guardians and the lake cleanup is today from 8:45-11 a.m. at Lake McIntosh reservoir in Peachtree City. Please arrive by 8:45 a.m. in the boat dock parking lot off of TDK Blvd. Each new volunteer that registers with waterguardians@fayettecountyga.gov by Aug. 1 will be given a Water Guardian T-shirt at sign-in to wear during the event. Each volunteer will be provided a trash grabber, trash bags and bottled water. Please note that a liability waiver will be sent to all volunteers and must be completed in order to participate. This also applies to previous volunteers. Please remember to bring your waiver, life vest, sunscreen and a hat the day of the event. In the case of rain, all registered participants will be notified via email with a rescheduled time and date. Thanks to the generous support of the Fayette County Water System and our volunteers, we will be hosting a cookout after the cleanup. Please plan to stay and enjoy burgers, hot dogs, and other treats.
To register for this event, send an email to WaterGuardians@fayettecountyga.gov and include your name, daytime phone number, contact email address and T-shirt size.
In the event of rain, a makeup date will be given by email.
August 15
"Zapping Zika" is today at Fayette Senior Services' Peachtree City location (The Gathering Place, 203 McIntosh Trail).Robert Kurbes with the Fayette County Health Department educates us on what we need to know and what to expect from the mosquito transmitted Zika Virus. Learn about the potential risk or appearance in Georgia in addition to ways to protect yourself against mosquitoes with helpful homeowner and safeguard tips.
This program is free but pre-registration is required at 770-461-0813 or register@fayss.org (include name, phone number and event title). FSS members and non-members welcome. For more information visit www.fayss.org.
August 20
The story of the Greenland Expedition Society resulted in the discovery and recovery of a World War II P-38 fighter that had been buried 265 feet below the Greenland ice cap for 50 years. Three Georgia adventurers and aviators will be guest speakers at the Commemorative Air Force Dixie Wing today to discuss their remarkable feat over 11 years, beginning in 1981.The two-hour program begins at 11 a.m. at Dixie Wing Headquarters, Atlanta Regional Airport – Falcon Field in Peachtree City, with special guests Pat Epps, Richard Taylor, Neil Estes and Don Brooks. All were original crew members of the Greenland Expedition Society. The fee to attend this Dixie Wing event is $10 for the public; admission is free to active and retired military personnel. The Dixie Wing headquarters and museum are at 1200 Echo Ct., Peachtree City, adjoining Atlanta Regional Airport (Falcon Field). The Wing headquarters and museum will open at 9 a.m. For more information, or to schedule rides on Wing aircraft, visit www.dixiewing.org.
Fayette County 4-H will host a Back to School Luau today from 2-4 p.m. at the gazebo by the county administrative complex on Stonewall Avenue (between downtown Fayetteville and the fountain).Drop by to learn more about the Fayette County 4-H program where youth in grades 4-12 develop leadership skills, practice communication, participate in community service, and engage in learning opportunities.
The event will feature games, refreshments, and opportunities to learn more about 4-H events and activities offered throughout the year.
Contact the Fayette County UGA Extension office for more information at 770-305-5412×7 or online at www.ugaextension.org/fayette/4h.
August 22
The South Metro Rose Society meets today at 6:30 p.m. at The Heritage Bank at 440 N. Jeff Davis Drive in Fayetteville. All rose growers from novice to expert are invited to attend free of charge. This month's program features Bonnie Umberger, Coweta County Master Gardener, speaking to us on "Color in the Garden". She will review some of the basics of garden design and outline how to utilize color to enhance gardens.
As always, Consulting Rosarians will be available to answer questions on any rose topic. For more meeting information call 770-776-7123.
"Murder in Coweta County" is scheduled today from 1:30-2:30 p.m. at Fayette Senior Services' Peachtree City location (The Gathering Place, 203 McIntosh Trail).
Investigate the 1948 John Wallace murder trial that inspired the best-selling book "Murder in Coweta County." The executive director of the Newnan Coweta Historical Society will bring artifacts and memorabilia from the trial and will share the history behind this famous murder case. This program is free but pre-registration is required at 770-461-0813 or register@fayss.org (include name, phone number and event title). FSS members and non-members welcome. For more information visit www.fayss.org.
Fayette Senior Services will hosts its first-ever Community Volunteer Expo today from 10 a.m.-2 p.m. at its Fayetteville location (The Life Enrichment Center, 4 Center Drive).
Local residents are invited to come out and learn how they can make a difference in the community. The expo will provide the perfect opportunity for them to meet with numerous organizations about volunteer opportunities in our area and find the one that's right for them.
This program is free and no pre-registration is required. Phone 770-461-0813 if you have questions. FSS members and non-members welcome. For more information visit www.fayss.org.
August 24
"Picture Perfect Moments" is today from 1:30-3:30 p.m. at Fayette Senior Services' Fayetteville location (The Life Enrichment Center, 4 Center Drive).
The world of digital photography is unlimited and provides so many advantages to photo taking, viewing and editing. DMS Creative Solutions will help attendees become expert photographers to capture the most picture perfect moment at any time. Learn about basics of digital photography from types of cameras – including smartphones – elements of exposure, rules of composition and everything in between. This program is $15. Pre-registration is required and payment must be made at the time of registration. Phone 770-461-0813 or stop by any location to register. FSS members and non-members welcome. For more information visit www.fayss.org.
August 29
"Golf Fore Kids" Classic at Eagles Landing Country Club is today. Annual fundraiser to benefit The Children's Village at Christian City where victims of child abuse live safely in family-focused homes with loving house parents. Campus is located in Union City. Register to play golf or sponsor the tournament at christiancity.org. Or contact Ashley Bonner at 678-466-1093 or ashleyb@christian-city.org.
August 30
Flat Creek 9ers Ladies Golf league will host a Charity Golf Tournament today to benefit Fayette County Ferst Foundation for Childhood Literacy. The tournament is open to Flat Creek Niners and their guests. 100 percent of the proceeds will go to the Ferst Foundation and all monies will stay in Fayette County. There is still time to become a corporate sponsor or donate items to the silent auction/raffle. All donations are tax deductible. For more information, contact Joyce Lenhardt at flatcreek9ers@gmail.com or Lenna Siderius at lmsiderius@hotmail.com.
September 6
The Peachtree City Garden Club hosts its first fall meeting at 10 a.m. at The Bridge Community Center, 225 Willowbend Rd., Peachtree City. Come hear local master gardener, horticulturalist, and Georgia-certified landscaper, David Cree, talk about "How to Achieve an Appealing Landscape: Where the Beauty of Nature Meets the Artistry of Man." Guests are welcome. Join us at 9:30 for refreshments. Yearly membership in the garden club is $15. For more information, check out the Peachtree City Garden Club on Facebook.
September 11
The Peachtree City Police Department is hosting this year's National Night Out event along with the Peachtree City Convention and Visitors Bureau. It is today from 4-6 p.m. at Huddleston Elementary School.
Come out to visit with several public safety and community-based crime prevention agencies and check out the Fire Department ladder trucks, helicopters, police vehicles, and various other pieces of public safety equipment. All children who attend the event can participate in the extremely popular public safety scavenger hunt, which yields lots of goodies and prizes donated by the community. After National Night Out, head across the street to The Fred for the Lee Greenwood concert, which will include a public safety recognition component in honor of the 15th anniversary of Sept. 11, 2001. For Lee Greenwood concert tickets, visit http://www.amphitheater.org/.
September 12
"You Don't Know Squats" is today from 12:30-2:30 p.m. at Fayette Senior Services' Peachtree City location (The Gathering Place, 203 McIntosh Trail). A solid plan is always the key to achieving a goal, so having a plan for exercise should be no different. Jason Bombard with Piedmont Fayette Hospital Fitness Center will discuss the best practices to take when trying to create momentum and consistency when starting a personal exercise program. Just "winging it" can lead to failure, disappointment, and injury so join Jason to get on track to exercising today. This program is FREE but pre-registration is required at 770-461-0813 or register@fayss.org (include name, phone number and event title). FSS members and non-members welcome For more information visit www.fayss.org.
September 24
Storytellers from around the globe are expected to meet for the College-Temple Storytelling Festival, today from 4-6:30 p.m. at the McRitchie-Hollis Museum, 74 Jackson Street in Newnan. The Newnan Coweta Historical Society is coordinating the event, billed as the first local event of its kind.
The festival's headliner is Irish storyteller Helena Byrne. Local storytelling group leader Larisa McMichael is coordinating the event. Tickets are $20 and can be purchased at www.eventbrite.com, by calling 770-251-0207 or by visiting the museum.