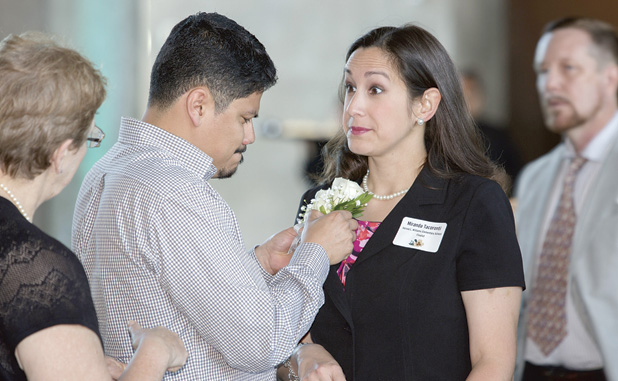 A product of Fayette County's schools is impacting students hundreds of miles away and has been honored by her peers for her exemplary work.
Miranda Tacoronti was named 2016 Elementary District Teacher of the Year by the Fort Worth Independent School District in Texas. She is a fifth-grade bilingual reading teacher at Versia Williams Elementary School.
The Fort Worth ISD has more than 86,000 students and includes 83 elementary schools according to its website.
Just 10 years ago Tacoronti was a student preparing to graduate from Starr's Mlll High School. She earned her bachelor's degree at the University of Georgia and was studying for her master's in bilingual and bicultural education at the University of Texas in Austin when she entered the Teach for America program and was placed at her current school.
"I wanted to serve in a low-income Title I school," she said.
After fulfilling her two-year commitment with Teach for America she remained at Versia Williams Elementary where she just completed her fourth year. She is the Gifted and Talented Coordinator and grade-level chair for her campus and also tutors for the Fort Worth After School Program and is involved in the Blue Zones Project, according to a statement from the district.
In her own regular classroom Tacoronti teaches in English and Spanish on a daily basis as part of a dual-language enrichment component in Texas schools where students are taught in both languages all the way through so they can leave elementary school being bilingual and bicultural. Most of those young people start in Spanish because it is their native language.
After being nominated over the winter as her school's Teacher of the Year, she learned in April that she was district finalist and was interviewed by a panel of judges. The award, which included a $5,000 honorarium, was presented May 5 at the annual awards dinner at the Modern Art Museum of Fort Worth.
She has just completed the application process for state Teacher of the Year, with 40 semifinalists to be selected by the end of the summer. "We'll just see what happens," she said.
When asked about teachers who influenced her as a high school student, she was quick to mention several from Starr's Mill (some of whom are now retired) such as Emily Willis, Dan Gant, J.B. Campbell, Priscilla Mucklow and Scott King.
In a video recorded by the Fort Worth ISD, Tacoronti talked about how important it is for her to get to know her students and recognize that influence.
"They are going to go home and talk about what you did in class," she said. "Those parents want a teacher who is good for their children. As a teacher you want to impact your students to be successful. We want them to be successful."
She said she loves being their teacher every day, even on the hard days when it may be difficult to get out of bed in the morning.
"If I'm not fighting for them, who will?" she asked. "Why not be passionate and love the job you have? I love teaching."