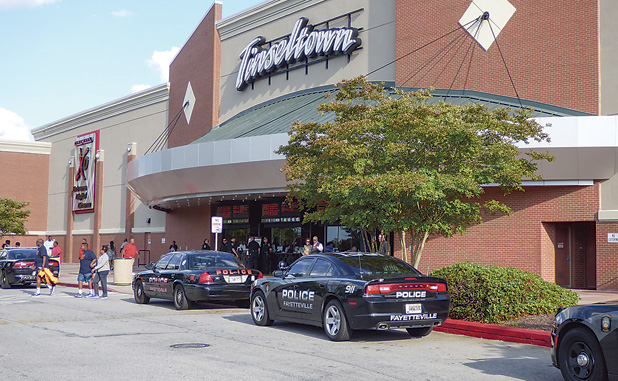 The move by the Tinseltown Theater in Fayetteville to begin a "parent escort" policy on Fridays and Saturdays beginning May 20 went off without a hitch.
"It went very smoothly with no incidents," said police department spokesman Mike Whitlow of the onset of the new policy over the weekend. "We received feedback that was supportive. Some parents were not happy, but for the most part parents were supportive and saw the need for the policy."
The theater at the Fayette Pavilion on May 20 began enforcing the mandatory adult chaperone policy in response to several incidents at the theater involving large groups of juveniles and an increase in associated criminal activities.
Police Chief Scott Pitts proposed the policy and (Tinseltown parent company) Cinemark agreed to help police combat the increased numbers of unescorted juveniles and the accompanying issues, Whitlow said.
Whitlow said the policy represents a proactive move by the police department in conjunction with Tinseltown Theater.
According to the policy, "On all Fridays and Saturdays, all children and teens under 17 years of age who are at the Tinseltown Theater after 6 p.m. must be under the supervision and control of a parent or guardian (21 years or older), who must have visual contact with the child or teen. A parent or guardian may not escort more than six children or teens under the age of 17.
"After 6 p.m., unaccompanied children and teens under the age of 17 who are currently watching a movie will need to be picked up by or fall under the supervision of a parent or guardian (21 years of age or older). Youths under the age of 17 must be accompanied by a parent or guardian (21 years or older) to attend films starting after 6 p.m."
Whitlow said police took the action to prevent a duplication of an incident that occurred three weeks ago when a fight broke out between two juveniles but resulted in approximately 100 spectators looking on.
"Ninety-nine percent of juveniles are there to watch a movie," Whitlow said. "The issues arise when they are waiting for parents to pick them up after the movie. The idea is to cut down on the potential for safety issues and criminal activity."