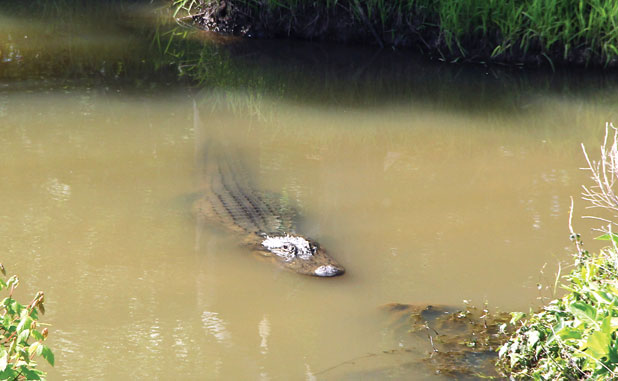 Say goodbye to Flat Creek Floyd, the popular in-city alligator. You liked him too much.
The notoriety received by the alligator that took up residence in Flat Creek in south Peachtree City has resulted in plans by the Georgia Department of Natural Resources (DNR) to trap and relocate the 6-foot gator, dubbed Flat Creek Floyd on Facebook.
Peachtree City Police Chief Janet Moon at the May 5 meeting of the Peachtree City Council said the alligator's notoriety, which includes media reports as far away as Oregon, has resulted in the (DNR) announcing plans to have the gator trapped and relocated to a wet spot 100 miles to the south.
Moon said DNR will contract with a trapper using special snares to accomplish the task.
The decision by DNR was a reversal of the previous stance on the alligator since it was not present in a recreational body of water.
That reversal came after reports of area residents, including families with pet dogs, walking along Flat Creek to get a glimpse of the gator.
Moon asked the public to stay away from the area, specifically cautioning residents not to feed the alligator.
"If it gets used to being fed by citizens it won't be able to be relocated and will have to be euthanized," Moon said.
Councilman Terry Ernst at the meeting suggested that an animal rescue service located closer to Peachtree City be contacted to see if the group would be willing to take the alligator.
The 6-foot alligator was first spotted in early April by a truck driver at Ga. Highway 74 South and Flat Creek and was later verified by Peachtree City police officers.
The area where the alligator was spotted is approximately 2,000 feet upstream from the convergence of Flat Creek and Line Creek. The two converge immediately west of the bridge on Rockaway Road. Line Creek flows on to empty into the Flint River a few miles south of Senoia and Brooks.