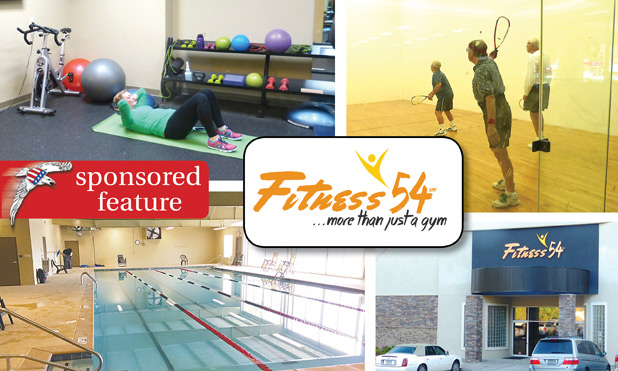 Sponsored Feature
J.D. and Varner Holmes have owned multiple successful Fayette-area health clubs over the years. Their newest, Fitness 54 located on Highway 54, opened in January 2014 and it's something pretty unique: a Peachtree City gym with a combination of low prices and quality features that don't usually come in the same package.
"We have the most amenities at the most affordable prices of any fitness center on the south side of Atlanta," says J.D. "Health club memberships tend to be one-size-fits-all. We wanted to give our members options so they could choose the level of access that best fits their needs and their lifestyles. But we also wanted to keep monthly fees very affordable. "
They've certainly achieved their goals. Budget memberships are just $9.95 per month, plus activation fee, and requires no commitment. These members have access to the cardio and strength machines, the abs-only area, and the locker rooms, showers, and saunas.
Executive memberships, which are $10 more per month with a twelve-month term, include these amenities plus access to the indoor lap pool which was recently converted to a salt system, outdoor family pool, hot tub, sun deck, and sand volleyball.
For $29.95 per month, VIP members at the Peachtree City gym can play racquetball and participate in both aqua classes and the new-in-2016 land classes. Plus, VIP members may bring a guest with them as many times as they wish.
Members at all levels can expect friendly, welcoming service – and to be treated like the club values their membership.
"Our members have been raving about the salt conversion," J.D. says. "It's skin and fabric-friendly, and there's no odor. We're proud to have the first and only commercial salt-system pool in the area."
Another unique option is the club's "Fitness on Demand," which allows Executive-level members to select from more than 75 instructor-led workouts at times convenient to the member.
"Class starts when the member is ready," explains J.D.
Also new in 2016 is Fitness 54's partnership with Jennifer Robinson and Resolve Medical Weight Loss. Jennifer, an R.N. who also holds advanced certification as a family nurse practitioner, will provide medically-based weight-loss and nutrition instruction to Fitness 54 members on Monday evenings.
Fitness 54 Highlights
Basic cardio and strength memberships at $9.95/mo./no commitment
Three à la carte membership levels
Large cardio and strength areas
New in 2016: land group classes, in addition to our aqua classes
Unique "Fitness on Demand" room with more than 75 workout options
Indoor and outdoor pools, plus hot tub, racquetball courts, sun deck, and sand volleyball
New in 2016: medically-based weight-loss and nutrition instruction
VIP memberships include generous guest privileges
For more information on this affordable, friendly Peachtree City gym, visit the gym at 1964 Hwy. 54, the website, www.fitness54.com, or call 770-487-5454.