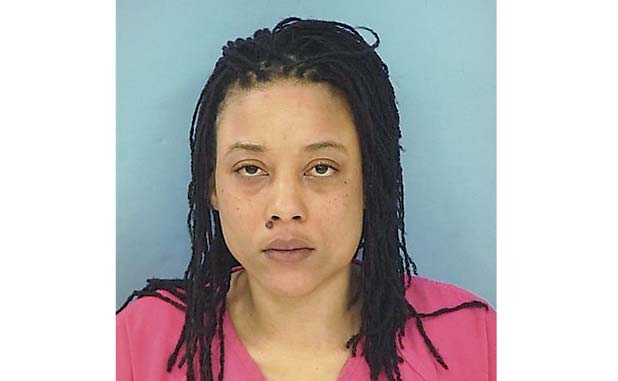 A Fayetteville woman was arrested on Dec. 16 after failing to stop while clocked by radar speeding then getting into a physical altercation with officers after refusing to exit her vehicle when she arrived home.
Vineesha Renee Goss, 28, was charged with felony obstruction and DUI, according to Fayetteville Police Department spokesman Mike Whitlow.
Whitlow said the Dec. 16 incident occurred as Lt. David Cagle at approximately 2:45 p.m. was operating radar near Grove Park on Ga. Highway 314 when he observed a Chrysler 300 that appeared to be speeding as it travelled south on the roadway. Radar confirmed the vehicle travelling at 61 miles per hour in a 45-mile-per-hour zone, Whitlow said.
The officer attempted to pull the vehicle over at the intersection of Hwy. 314 and North Glynn Street but the vehicle continued onto North Glynn Street at a speed of 49 miles per hour while weaving. The vehicle turned onto Ga. Highway 92 and continued to 105 Oak Leaf Court, Whitlow said.
Other officers were alerted and joined Cagle at the residence. Whitlow said Goss refused to exit the vehicle.
Whitlow said several members of her family exited the home and began yelling at the officers after Ms. Goss had notified them by telephone while Lt. Cagle was attempting to conduct a traffic stop.
"Eventually, Goss was removed from the vehicle, placed in handcuffs and was placed in a patrol vehicle. Goss was able to slip out of the handcuffs and when officers tried to restrain her again, she became combative, struck an officer with her fist and kicked the officers," Whitlow said. "Lt. Cagle deployed his Taser to subdue Ms. Goss. Officers were able to re-handcuff her and she was taken to Piedmont-Fayette Hospital to be checked out. Goss was later released from the hospital and was booked into the Fayette County Jail on charges of DUI (alcohol) and felony obstruction of a police officer."