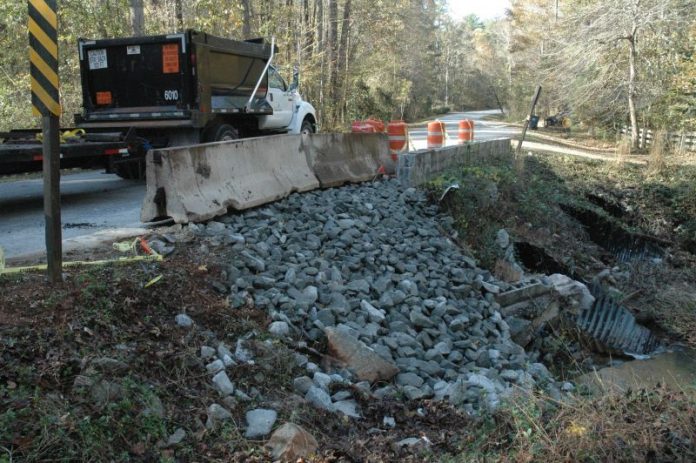 The Peachtree City Council on Dec. 3 approved a $336,000 bid to repair the culverts and shoulders on Spear Road involed in a washout in mid-November after heavy rains did significant damage and resulted in the closure of the road in the city's east side.
Ronnie D. Jones was awarded the $335,999 bid, the lowest of three, by unanimous vote.
City Engineer David Borkowski recommended the alternate bid rather than the base bid because it included a complete replacement of the culverts with concrete pipe instead of repairs of the existing pipes.
The city will get a new installation that will last longer and provide increased hydraulic capacity, Borkowski said.
This project is budgeted and is currently funded in the 2014 Public Improvement Program (PIP) fund and in the Stormwater Utility.
Of the amount, $216,216 will come from Stormwater Contractual Services and 119,783 from the 2014 PIP fund.
The portion of Spear Road that crosses Camp Creek on the city's east side washed out Nov. 12 after heavy rains.
Given the washout, the previously budgeted project was moved up on the priority list.
The two remaining alternate bids were from Brent Scarborough at $648,805 and Strack at $645,793.