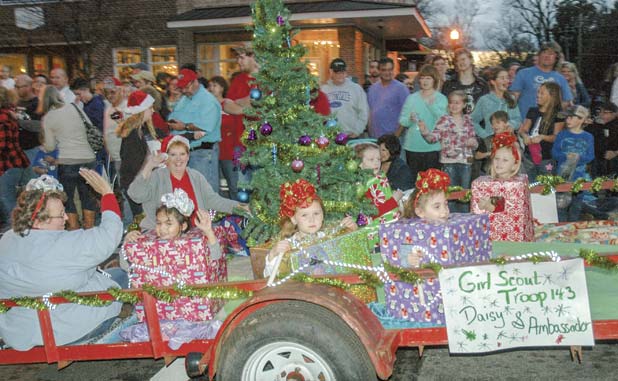 If the past Christmas celebrations in Senoia and Tyrone are any indication, this year's kick-off to the Christmas season on Dec. 5 and 6 should see large numbers of families lining the street for the annual "Light Up Senoia" parade in Senoia and filling Shamrock Park in Tyrone for the annual Christmas Tree Lighting and Holiday Celebration.
A mainstay in Senoia during the Christmas holiday season, Light Up Senoia will be highlighted on Dec. 5 with the parade down Main Street. The parade begins at 5:30 p.m.
The festivities in Senoia will begin at 4 p.m. and run until 8 p.m. A sampling of what's in store for city residents and the many visitors to Senoia includes Santa's workshop, a food court, plenty of Christmas entertainment and the Christmas tree lighting after the parade.
A spokesperson for Santa's elves, while insisting on anonymity, confirmed that Santa and Mrs. Claus will be altering their holiday schedule so they can be in attendance on Dec. 5. The Citizen can now confirm that Santa and Mrs. Claus will be in the parade and at the gazebo after the tree lighting.
It seems that Santa's detour to Senoia will be followed on Dec. 6, according to an anonymous source, with a stop in Tyrone in time for the annual Christmas Tree Lighting and Holiday Celebration in Shamrock Park on Senoia Road.
Tyrone's annual introduction to the Christmas season begins at 4 p.m. and runs until 8 p.m.
The line-up begins with the Tri-S Band, Jr. Jazzercise Kids, the Sandy Creek Chorus, zumba, the Way of Life Kids and the Sandy Creek Jazz Band.
Santa will arrive at 5:15 p.m. on his horse-drawn sleigh and, before the day is over, will hear Christmas wishes from the kids.
Free sleigh rides around the park will begin after Santa arrives.
Activities will continue with the Burch Bears, Artisia's baton twirling, the Sandy Creek Jazz Band and the Flat Rock Chorus.
The Christmas tree will come to life just before 7 p.m. and will be followed by performances from several dance companies.
Throughout the evening, members of the always active Fayette Daybreak Rotary Club will serve complimentary cookies and cocoa.