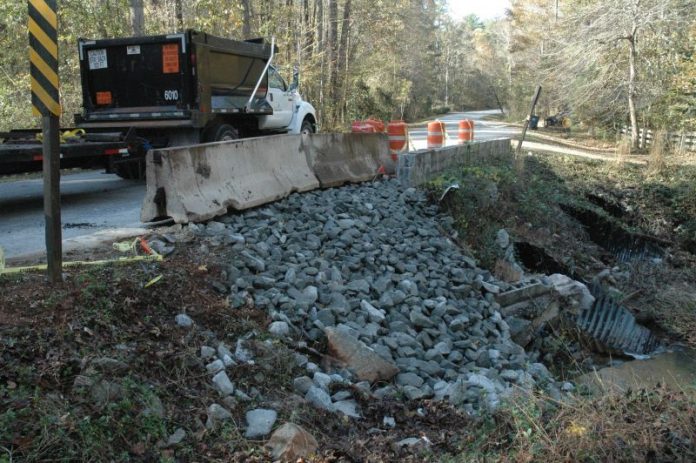 The roadway section on Spear Road that crosses Camp Creek on Peachtree City's east side washed out Nov. 12. City stormwater crews accomplished a temporary fix and the bids for the replacement project are being solicited. The roadway was opened for traffic Friday morning.
City stormwater crews were on the scene Thursday afternoon after the washout. Interim City Manager Jon Rorie on Thursday said crews were assessing the damage, adding that the section of roadway crossing Camp Creek was previously added to the city's stormwater project list.
Given the washout, the project has been elevated and crews will go ahead with the project work, Rorie said.
Rorie on Friday morning said large rocks had been installed in the area near the culverts that washed out, noting that the rock is intended to prevent further erosion. The roadway section will continue to be monitored, said Rorie.
Rorie said city staff has engineering plans in place for the replacement project and are currently soliciting bids for the needed work.
Spear Road connects Robinson Road to Ebenezer Road on the city's east side.