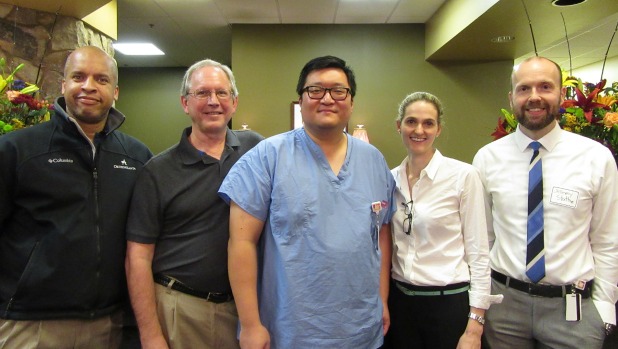 OrthoAtlanta, one of the largest orthopaedic and sports medicine practices in the greater Atlanta area, welcomed its new spine surgeon, Kevin U. Park, M.D., to the community and its physicians practice in a Nov. 5 gathering at the Fayetteville office which was attended by members of Piedmont Fayette Hospital, area physicians, medical and business professionals.
Dr. Park brings expertise in spinal surgery and treatment to Atlanta area communities south of I-20, serving patients at Piedmont Fayette, Henry and Newnan Hospitals. He specializes in the treatment of adult degenerative cervical, thoracic and lumbar spinal disorders as well as traumatic spinal injury through minimally invasive spinal surgery and motion preservation technology such as total disc arthroplasty.
His extensive training includes a spine fellowship at Harvard's prestigious Massachusetts General Hospital and Brigham and Women's Hospital, and residency at Rush University Medical Center in Chicago.
"Preserving quality of life in patients led me to become a spine surgeon," he said. "Motion preservation technology and minimally invasive procedures in the treatment of spinal disorders can influence patient outcome, returning them to the things they love doing."
Dr. Park is an avid golfer, which drew him to focus research on the ability of golfers to return to the sport after lumbar fusion.
Fluent in Korean, he lives in the Atlanta area with his wife Pauline, and they recently welcomed their new baby girl in September.
For more information, visit www.OrthoAtlanta.com.