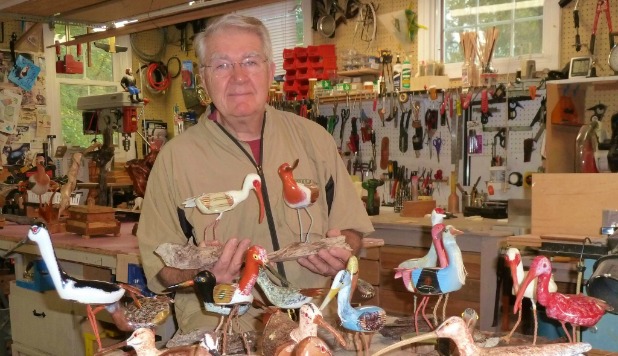 Russ Gariota of Peachtree City is a former Delta marketing and customer relations executive who is still interested in "flight."
Retired after 34 years, Gariota has found inspiration for his unique and fanciful bird wood art from old golf club woods and driftwood. He will be participating in the St. Andrew's Fine Art & Craft Show scheduled for Saturday, Dec. 5, 9 a.m.-2 p.m.
"I am inspired by the different shapes, sizes and textures of the wood," he said. "Tree limbs, lace wood, golf club woods, and tree roots lend themselves to my creating each bird caricature and a variety of sculptures."
He credits his father for instilling in him the fascination with wood and its inspirational qualities.
Gariota hand sculpts, refinishes and hand paints each unique bird that includes graceful egrets, colorful ducks, loons, shore birds and fanciful flamingos. He has fashioned a Scotsman series each with hand painted authentic tartans complete with Tam O' Shanters with miniature hand carved golf ball pom-poms. A skilled carpenter, Gariota has built carved mantle pieces, rooms with full judge's paneling, custom entertainment centers, and furniture with wood inlays and carvings for his home, friends and family.
The St. Andrew's Fine Art & Craft Christmas Fair features over 20 selected vendors. The Episcopal church Women (ECW) will present their Christmas Bazaar, bake sale and golden elephant sale in conjunction with the Art Fair. Proceeds benefit ECW programs and community outreach. St. Andrew's Episcopal Church, 316 Peachtree Parkway North, Peachtree City. Information: 770-487-8415.