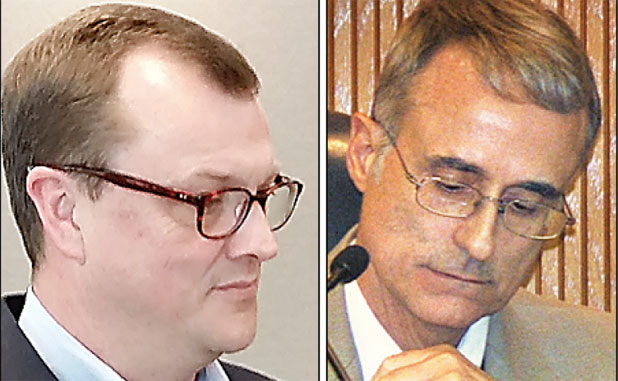 Brown accuses Oddo of duplicity; Oddo mum on any negotiations about dropping district voting lawsuit appeal; who pays attorneys' fees likely to be sticking point
Fayette County Commission Chairman Charles Oddo is said to be in secret talks with Fayette and national NAACP officials about dropping the district voting lawsuit appeal, and Commissioner Steve Brown is outraged about the behind-the-scenes developments, according to an email sent to The Citizen Tuesday.
Oddo declined comment.
Likely the settlement sticking point is who will pay the attorneys' fees, now exceeding $1 million by many estimates.
When contacted by The Citizen after receiving his letter, Brown said he was told by Board of Education member Dr. Barry Marchman about a conversation with fellow school board member Leonard Presberg, who is also the head of the county's Democratic Party.
According to Brown, Presberg told Marchman that the Board of Commissioners was preparing to settle the lawsuit and the school board should consider doing the same.
Brown said he also received a call from a WSB-TV reporter who told him that a local NAACP official had announced a settlement was imminent.
"Right now I don't give a flip if we end up voting to settle the lawsuit," Brown said. "Just don't do it behind the scenes."
Brown said Oddo tried to convene a special called meeting this week when neither he nor Ognio could attend. The purpose, according to Brown, was to finalize the terms of a settlement in an executive session with their attorneys present, so that all details would be worked out and a final vote could be taken at the Oct. 6 regular meeting.
Contacted about the potential for a settlement, Fayette County Board of Education Chairman Marion Key on Tuesday morning said only that the school board will be meeting with its attorney David Walbert on Wednesday.
Fayette County NAACP President John Jones on Tuesday said that NAACP has always been agreeable to and advocated for a settlement.
Part of what has been at stake from a monetary standpoint are the fees charged by attorneys on both sides, where the losing side often pays both costs. Asked if the NAACP would forego requiring the county to pay its attorneys fees if a settlement were reached, Jones said that decision would be up to the national NAACP Legal Defense Fund.
Jones said he believed it is an issue that could be negotiated by the attorneys on both sides.
"We've never looked to take tax dollars away from Fayette County taxpayers," Jones said, adding that the NAACP's desire is for the county to heal.
Jones also noted that there was "almost a settlement a year or two ago when Commissioner Steve Brown was commission chairman." Jones said Brown at one time had been in favor of district voting.
Brown is wondering aloud if Chairman Oddo has overstepped his legal authority.
Brown copied The Citizen on a letter he sent to Oddo Tuesday morning in which he stated that he had been contacted by the news media regarding a possible settlement, which Brown said NAACP and Democratic Party leaders in the county are telling other elected officials is a done deal.
"This along with statements you made in our last executive session have us seriously worried that you have far exceeded your authority as chairman," Brown wrote to Oddo. "You never asked for the consent of the Board of Commissioners to enter into any such talks with the plaintiffs. This is not the first time you have significantly ventured outside the bounds of legal authority, but it could be the most devastating foray so far."
Brown said he has asked officially for a written memorandum from Oddo detailing his talks with the plaintiffs but has not gotten a response, "leaving your fellow defendants and our legal team in the dark," he wrote.
"I take great exception to your attempting to orchestrate a special called executive session without the full Board of Commissioners present. Commissioner Ognio told me how you were making an effort to have that meeting without either of us present," Brown continued.
Alleging a behind-the-scenes collaboration with the local Democratic Party leadership, Brown said speculation has begun regarding whether Oddo and Commissioner David Barlow, both whose seats are up for re-election in the fall of 2016, are considering to make those runs as Democrats.
"Your disdain for our ordinances related to the duties of chairman, your condescension towards your colleagues and your disregard of the citizens of Fayette County, whose support and funding of the defense of at-large voting you had previously recognized, is demonstrating utter contempt for the proper administration of government," Brown wrote.
Oddo refused to comment in any way about the matter when contacted by phone Tuesday, citing the ongoing litigation. "I'm not going to confirm, deny or talk about any of it," he said.
Brown closed his letter to Oddo with this: "The lack of transparency and the abuses of power have been most lamentable. Our citizens are the losers when government business is conducted in this manner. This type of conduct can only be considered dishonorable."
The NAACP won the first round in 2013 when federal District Judge Timothy Batten ordered Fayette to abandon its historic at-large voting procedures for all candidates for county commission and the board of education. The county and school board later appealed.
The decision resulted in Pota Coston being elected in 2014 in a redrawn District 5, becoming the first black woman ever elected to countywide office in Fayette. She died in July this year, resulting in Judge Batten's ruling that a special election also be held only in District 5. That election produced another black commissioner, Charles Rousseau, who was sworn in last week and took his first votes last Thursday. — Also reported by Ben Nelms and Cal Beverly.