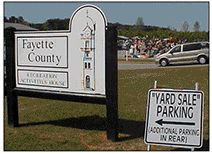 Fayette County Parks & Recreation Department's 15th annual Community Yard Sale is scheduled for Saturday, Oct. 17, 8 a.m.-3 p.m. in the parking lot of the Activities House, 980 Redwine Road in Fayetteville.
The sale is held twice a year (spring and fall), and it is considered a great opportunity for group fundraising. The FCRD will advertise the sale and can have your leftover items picked up for a tax-deductible donation if you choose.
Past sales have attracted hundreds of shoppers from as far as Macon and Marietta.
Booth sizes consists of 2-4 parking spaces per vendor. Cost for Fayette residents is $20 for 2, $30 for 3 and $40 for 4. For non-Fayette residents the cost is $30 for 2, $45 for 3 and $60 for 4. Make checks payable to Fayette County Parks & Recreation Department (or FCRD).
General registration is Aug. 17–Sept. 25 (or until sold out). Booths usually sell out well before the deadline.
Register in person 8 a.m.-5 p.m. weekdays at the Activities House (Recreation Office), 980 Redwine Road in Fayetteville or by mail to Fayette County Parks & Recreation Dept. 140 Stonewall Avenue West, Fayetteville, GA 30214.
To register online, visit www.fayettecountyga.gov/parks_and_recreation/online_payments.htm and use course code 15440 (a convenience fee applies). You must still return the official Yard Sale Registration Form in person, by mail, or by fax to 770-460-1931. The online payment will be sufficient to temporarily reserve your booth for a period of one week until you finalize your reservation by submitting a completed Yard Sale Registration Form to the FCPRD office.