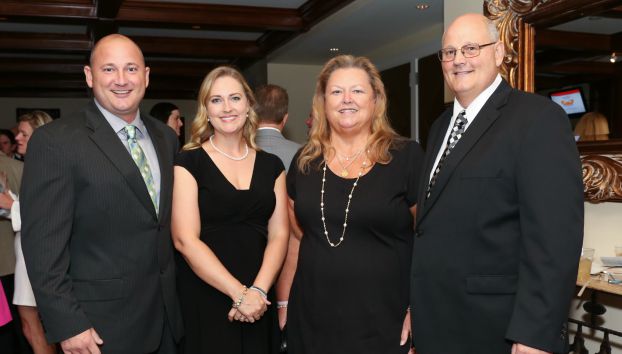 Peachtree City residents Walter "Tommy" Thomas of Thomas Barber Shop, his wife Linda, son Jason Thomas and daughter-in-law Charlotte Thomas will be honored at this year's Hope Flies Catch the Cure benefiting the Foundation for Mitochondrial Medicine.
The event is scheduled for Friday, Sept. 18, from 8 p.m. to midnight at the Buckhead Theatre, 3110 Roswell Road and will feature live dance music, silent auction and raffle, open bar and dinner.
Tommy and his family are inspired by their son, Jason Thomas, who was diagnosed with mitochondrial disease in 2011.
Thomas "Tommy's" Barber Shop is a Buckhead small business rooted in all things Atlanta, serving Coca-Cola executives, captains of industry, professional athletes and politicians amongst local residents for 56 years. Tommy's shop celebrates and preserves the rich and rooted history of the city. The shop's classic barbershop feel and hometown pride create a unique atmosphere that has compelled customers to choose Tommy's time and time again not only for a great haircut, but also for a unique and celebratory social experience.

Tommy's son, Jason Thomas, 41, is a husband and father of three who was diagnosed with mitochondrial disease in 2011. Mitochondrial disease is an energy production problem that primarily affects the muscular and neurological systems. Mitochondrial are the "power plants" that produce the body's essential energy and when they don't function properly, the body can have a "power failure." There is a graduation of affects – ranging anywhere from a "brown out" to a fatal "black out" – and no two people diagnosed with mitochondrial disease have the exact same symptoms.

Eleven years ago, Jason began noticing an increase in daily fatigue as well as muscle issues in the extremities and legs. After a series of surgeries and medical tests, at age 37 Jason was diagnosed with mitochondrial disease. Because of his mitochondrial disorder, Jason's body does not recover from exertion as it should and can be more easily damaged by not getting the rest it requires. Daily tasks such as talking are off limits for Jason due to the immense amount of energy Jason must put into having a simple conversation. Other symptoms of mitochondrial disease for Jason include muscle weakness and body aches. As a stay-at-home father responsible for the care of his family, Jason must plan his day carefully to save energy and attend to the needs of his family. While his wife is at work and children are in school, Jason spends his time resting to be as energized as possible when they come home.

"Hope Flies Catch the Cure is the perfect way to raise awareness and critical research funds for mitochondrial disease," said Laura Stanley, executive director for the Foundation for Mitochondrial Medicine. "We look forward to celebrating the Thomas family and honoring Jason's fight."
Individual tickets to the event are $175 and various sponsorship levels are available. All proceeds benefit the Foundation for Mitochondrial Medicine. For more event information or to buy tickets, visit www.hopeflies.org/catchthecure.

Mitochondrial dysfunction is at the crux of many common diseases including Autism, Alzheimer's, Parkinson's, ALS, and chronic fatigue, and research and treatments for mitochondrial disease could help in treatments for these other diseases. Mitochondrial disease affects 1 in 2,500 and currently there are no treatments available.