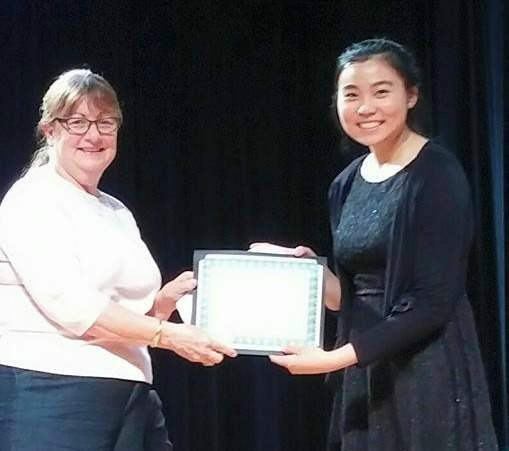 The Atlanta Southern Crescent Alumnae Panhellenic Association (ASCAPA) presented its 12th annual scholarship – a check for $1000 – to McIntosh's Kate Yun, pictured at last month's Senior Awards Night with ASCAPA founder Cele Eifert.
The ASCAPA Scholarship Committee sought a recipient from across the Southern Crescent who had a solid, all-around resume, at least a 3.0 GPA and a compelling essay. Yun easily surpassed those requirements, besting nearly 60 other young women, including valedictorians and others headed to Ivy League colleges. Yun is headed to Duke University to major in international affairs, biology and Spanish.
ASCAPA was founded in Peachtree City in February 2001 and is dedicated to making a difference in the lives of young women across Georgia, especially in the Southern Crescent area. The association is involved in local community service projects and promotes Greek life in Georgia and across the country. ASCAPA is affiliated with the National Panhellenic Conference, which was founded in 1902 and is an umbrella organization for 26 inter/national sororities/women's fraternities.
NPC serves as the national voice on contemporary issues of sorority life and is one of the oldest and largest women's membership organizations representing more than 4 million women at 655 college/university campuses and 4,500 local alumnae chapters in the U.S. and Canada. Each year, NPC-affiliated collegians and alumnae donate more than $5 million to worthy causes, provide $2.8 million in scholarships to women and volunteer over 500,000 hours in their communities.