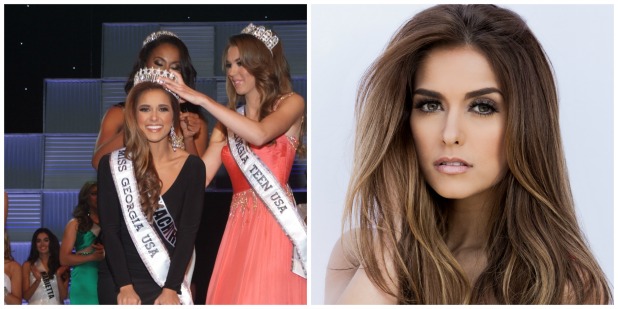 It's just a matter of days before Miss Georgia USA 2015, Brooke Fletcher, 23, makes her way to Baton Rouge to compete for the title of Miss USA 2015.
The 64th annual Miss USA pageant will be telecast live from the Baton Rouge River Center in Louisiana July 12 at 8 p.m. Eastern time on NBC.
Fletcher, from Peachtree City, is an associate director at ESPN Inc., working on national shows covering her favorite college sports. With her background in production, along with her knowledge of sports, Brooke's career goal is to go from behind the scenes to in front of the camera as a sideline reporter. Although she inspires to have a career in broadcasting, she graduated from Auburn University with a degree in business marketing and a minor in Spanish.
She was a gymnast for 11 years which then transferred into competitive cheerleading. In her spare time, she enjoys challenging her mom to a game of tennis or assisting her sister with her fashion business. She would like to bring awareness to causes close to her heart including Boys and Girls Club, Children's Miracle Network, Breast & Ovarian Cancer Awareness, and The Humane Society.
"Brooke is an excellent example of the young women we have had the honor of sending to the Miss USA Pageant to represent our state and organization," said Miss Georgia USA pageant director Kim Greenwood. "She embodies poise, intelligence, class and beauty, and those qualities will take her far."
Upon arrival to Baton Rouge, each of the 51 ladies, with representatives from all states and the District of Columbia, will be a part of a series of rigorous rehearsals, interviews and fittings. The semifinalists will be seen as part of the live show on NBC with each lady competing in swimwear and formal wear. The top five will complete a short question-and-answer segment.
The winner of the Miss USA Pageant, owned by Donald Trump, will go on to compete in the Miss Universe Pageant.
This week the Miss Universe Organization announced several of the celebrity judges including Jessie James Decker, Jonathan Scott of "Property Brothers", Emmitt Smith, Terrence Jenkins of "E! News" and Zuleyka Rivera – Miss Universe 2006.
Additionally, Miss Georgia USA pageant officials have announced that applications are being accepted from young women throughout the state of Georgia who would like to compete in the 2016 Miss Georgia USA and Teen USA Pageants in McDonough this November.
This will be the second year McDonough will host the Miss Georgia USA and Miss Georgia Teen USA Pageants. The events will take place at the Henry County Performing Arts Theatre Nov. 19-21. Tickets will go on sale in October.
Qualified applicants must be a resident of Georgia, a single female (never married and never had a child) and a U.S. citizen. Those wishing to apply must be 18-27 years of age for Miss Georgia USA or 14-19 for the Teen pageant as of Jan. 1, 2016.
Applications for the pageant can be found on www.missgeorgiausa.com under the "Apply Now" section.
For more information, phone 615-891-0557 or email info@greenwoodproductions.com.