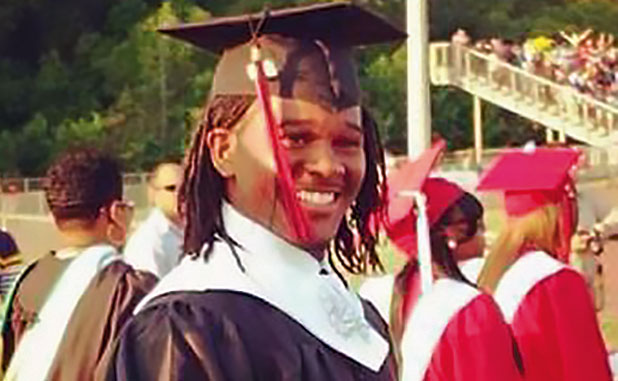 A football walk-on at Kentucky State, Wali Clanton assisted in student center
For the second weekend in a row in Fayette County, a man has lost his life to a felon with a gun.
The most recent incident was a teenage pool party gone bad — Little supervision and 200 young people.
Sheriff's investigators are interviewing numerous people who were present at a heavily-attended pool party on June 13 in north Fayette County where 19-year-old Stockbridge resident and Kentucky State University student Wali Clanton was killed and four others wounded after shots were fired before midnight.
"We're following every lead. All available resources of the sheriff's office are being utilized," Sheriff Barry Babb said Monday. "We're encouraging the parents of those attending the party to ask their children to call us."
Elaborating on the effort, Babb said sheriff's investigators took statements from a large number of those attending the party. The number of people involved makes the process of going through those statements tedious and time-consuming, Babb noted.
Babb said deputies at 11:51 p.m. on June 13 responded to the 600 block of Ga. Highway 279 in north Fayette County to a person shot call at a residence.
When deputies arrived they located five victims who had been shot while attending a large outdoor pool party which had been advertised on social media, Babb said.
Babb said Stockbridge resident Wali Clanton sustained a gunshot wound to the chest and was transported to Piedmont Fayette Hospital where he was pronounced dead.
Four others sustained non-life-threatening gunshot wounds and were transported to Atlanta area hospitals, Babb said, adding that three of the victims were male and one was female. The ages of the victims and their cities of residence were not immediately released.
Babb said the shootings occurred at the end of the driveway adjacent to the roadway, adding that there were more than 200 people attending the party.
Numerous media sources maintain that security guard Antonio Gibson shut down the party after a DJ said his daughter's drink had been drugged, with Gibson stating that a fight broke out as the teens began to leave.
Gibson was quoted in a number of media outlets as saying he heard 15 gunshots at approximately 12:30 a.m. That time frame is only approximate since deputies responded to the scene at 11:51 p.m. after being notified that someone had been shot.
Clanton was a 2014 graduate of Dutchtown High School in Hampton, according to media reports.
Clanton was a walk-on football player at Kentucky State University in Frankfort. School President Raymond M. Burse described Clanton as an active student and said the school was "deeply saddened" by his death, according to kentucky.com.
According to the Kentucky.com report, Burse said, "A potential nursing student, Wali often assisted with the university's Student Health Center activities and was always ready with a big smile. We were certainly upset upon hearing the news of this young man's tragic death in Georgia. He will remain in our thoughts as the campus community comes together in light of this tragedy. We offer our deepest sympathy and support to Wali Clanton's family and friends."
Anyone with information pertaining to this incident is asked to contact the Fayette County Sheriff's Office at 770-716-4715.
Meanwhile, Fayetteville police are still tracking leads in the shooting death of restaurant manager Gregory Smith early Sunday morning, June 7, in the Applebee's parking lot on North Glynn Street in Fayetteville. No suspects have been named in that homicide.
This residence in the 600 block of Ga. Highway 279 in north Fayette County was the site of a pool party on June 13 where Stockbridge resident Wali Clanton was fatally shot and four others were wounded. Gunfire broke out near the spot that the driveway meets the road as the heavily-attended party was broken up. Photo/Ben Nelms.