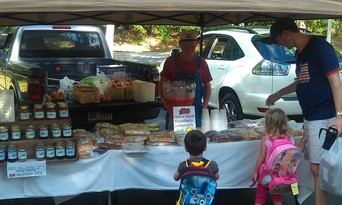 Piedmont Fayette Hospital and Fayette Senior Services are teaming up to present the farm-to-table way in a special program Tuesday, July 28, 10:30 a.m.-1:30 p.m. at The Life Enrichment Center, 4 Center Drive in Fayetteville.
"The farm-to-table way of thinking focuses on using extremely fresh ingredients that have been barely modified, sometimes presented raw just a few feet from where they grew," according to an FSS statement. "Learn about the health benefits of embracing this philosophy with an emphasis of freshness, seasonality, local availability, and simple preparations."
Speakers include Angela Bean (director of Peachtree City Farmer's Market), Bonnie Kanofsky (FSS executive chef), Scott Tyson (owner of 180 Degree Farm) and Ellen Steinberg (dietician with Piedmont Fayette Hospital.
The program is $15, includes lunch and must be paid at the time or registration. Pre-registration is required. FSS members and non-members welcome. For more information, phone 770-461-0813 or visit www.fayss.org.