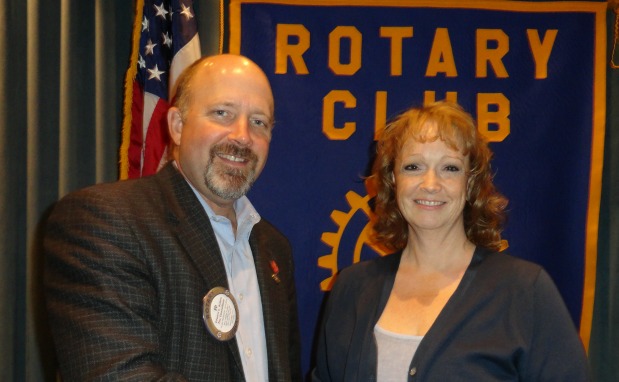 At a recent meeting of the Peachtree City Rotary Club, Jenny Stanley of Kidsandcars.org, a national organization, spoke about the dangers of leaving children in hot cars.
Tragically, Stanley speaks from experience about the loss of her daughter. Telling her mother that she was going next door to a neighbor's house, six-year old Sydney Marie instead climbed inside their unlocked car and could not get out. She died of heat stroke.

A very attentive audience heard Stanley state that Georgia is among 16 states that has passed a Good Samaritan Law regarding people who break into a car to save a child.
Kidsandcars.org is dedicated to spreading awareness, and educating the public about how to keep our children safe in and around motor vehicles. They also lobby for improved vehicle safety measures.
Stanley advised those in attendance to always lock their car when they park it, even at home, and also to be sure to "look again" inside the car before leaving it.
Here she is with Peachtree City Rotary President Ed Outlaw. Photo/Submitted.