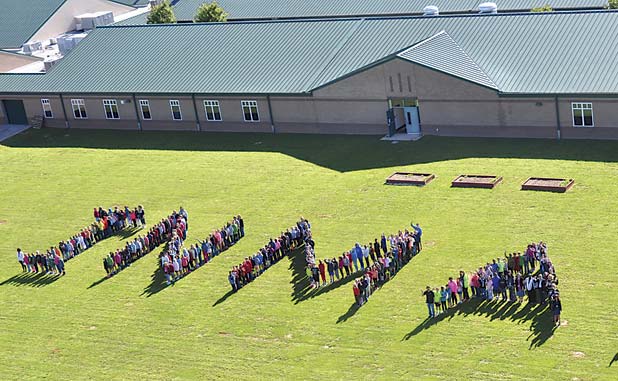 Students at Inman Elementary School south of Fayetteville witnessed a different kind of display at Career Day when members of the Sky Soldiers team from Hampton last week landed a Huey helicopter on the school grounds.
School system spokesperson Melinda Berry-Dreisbach said the dramatic entry kicked off the school's career day events.
Associated with the Army Aviation Heritage Foundation in Hampton, the Sky Soldiers after making a presentation about the helicopter's history flew the Huey over the school and took an aerial photo of third-, fourth- and fifth-grade students spelling "INMAN" on the school grounds, Berry-Dreisbach said.
The Huey first flew in 1956 as a medical evacuation and utility helicopter. A later version was used in combat operations during the Vietnam War.
The Army Aviation Heritage Foundation is dedicated to improving the public's awareness of Army aviation and its veterans.
Utilizing flyable historic Army aviation aircraft, the nonprofit foundation tells the story of Army aviation to the public through countrywide education presentations. The foundation's home office is at Tara Field in Hampton.
AAHP is dedicated to presenting the Army aviation story through narrated, patriotic flying presentations and static displays of the actual aircraft and equipment used by the men and women who served in Army aviation.
Members of the Sky Soldiers unit from the Army Aviation Heritage Foundation took this wide-view overhead shot at Inman Elementary School after giving students an up-close look at a Huey helicopter. . Photo/Submitted.