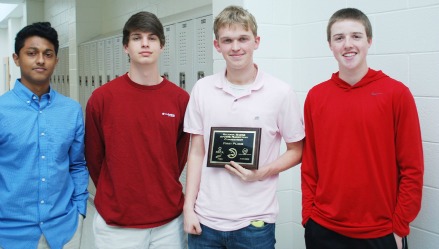 It was a slam-dunk for Whitewater High's DECA students at the Spring 2015 Sports Marketing Competition with the Atlanta Hawks.
Three teams of students swept the competition, taking first, second and third place in the state for their ideas about new sponsorship opportunities for the Hawks. The winning teams are (first place) Garrett Walraven, Jacob Henley, Davis Benefield, and Anoop Joseph; (second place) Tyler Sample, Trevor Cordi, Madias Loper, and Aliaahil Lilywala; and (third place) Cole Benefield, Matthew Weller, and Will Raville.
More than 1,500 students from around Georgia participated in the event. Top teams were selected to pitch their ideas to Atlanta Hawks marketing executives, who served as judges.
DECA is an international student association that prepares emerging business leaders and entrepreneurs for careers in marketing, finance, hospitality, and management.